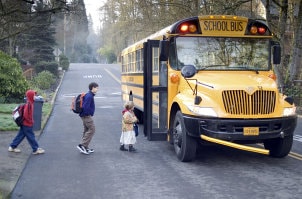 Backpacks are essential school supplies. They hold textbooks, notebooks, pens and other school supplies that students can't get along without. Because school backpacks are so important, a variety of bookbags has developed to meet the demand. Knowing what the best backpacks are before you shop for one will help you find the right bag for you or your student. Keep reading to discover the top five backpacks for school.
Best Backpacks for School:

Basic backpack: Basic double-strap backpacks were the original bookbags, and the classic design has only improved with time. Look for backpacks with organizer pockets to hold pens, phones and other small essentials. Padded shoulder straps and mesh pockets for water bottles help you stay comfortable when you must stay on campus all day.

Rolling backpack: When back-to-school season arrives, rolling backpacks are all the rage. Wheeled backpacks come with a variety of features, such as expandability and laptop compartments, in addition to the handy wheels and telescoping handle. Most rolling backpacks also have the traditional shoulder straps so you can carry the bag when it's light or if it would be inconvenient to pull it behind you. Wheeled backpacks are excellent bags for high school and college students who have several heavy textbooks and binders to haul around.

Laptop backpack: Any backpack with a padded laptop compartment can be called a laptop backpack. These school backpacks can be the best choice for students who type notes on their computers or who stay on campus for long hours and need the laptop to study. Many laptop backpacks have removable laptop sleeves to provide additional protection and convenience, and most have multiple compartments so students can carry the books and other supplies they need for class.

Utility backpack: The term "utility backpack" most often refers to outdoor backpacks, but when the term applies to school backpacks, it means durability. School utility backpacks have the great features of basic backpacks, but they have extra padding in the straps, a more rugged construction and durable build, ventilation systems, several compartments and a lightweight design.

Messenger bag: Messenger bags always become more popular during back-to-school season. They combine a classic side style with the features necessary for school backpacks. Choose messenger bags with padded shoulder straps; because all the weight of the bag hangs from one shoulder, good padding on the strap is essential.

Buy Backpacks
Back to Guides Directory