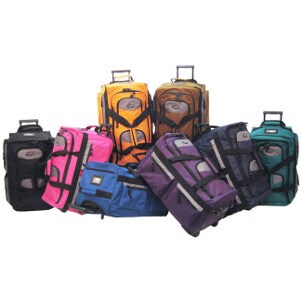 Rolling duffel bags are one of the most versatile pieces of luggage you can add to your collection. Available in a wide variety of shapes and sizes, a rolling duffel that suits your needs is certain to make your travels more efficient. Whether you need a duffel that will get baseball gear to your son's game or one that will make your airline trips easier, your shoulders will thank you for leaving your old luggage behind.
Reasons to Own a Rolling Duffel:

Versatility: Rolling duffel bags, no matter what size you purchase, can be used for a variety of purposes. They are great for kids' sports equipment since the handle and rolling wheels make it easy for children to manage heavy bags. Photographers find them useful for carrying tripods and other photo-shoot supplies, and they are perfect when moving because you can fill them with heavy items and not have to carry the bag.

Flexible sides: While hard-sided luggage can be restricting because the sides do not offer any give, a rolling duffel bag rises to the challenge. The ideal piece of luggage to accommodate bulky sports or ski equipment, books and files or simply every piece of clothing and each pair of shoes you need for the perfect vacation getaway, a rolling duffel's flexible sides offer plenty of options. A wheeled duffel bag is a great piece for those overseas vacations when you might be returning home with more than you brought.

Airline travel: Not only can walks between terminals be long and exhausting, but overhead bins in today's airplanes can be tight squeezes. A rolling duffel makes transporting your carry-on baggage from point A to point B a breeze with wheels that take the burden off of your hands and shoulders. Overhead bins are less of a challenge with the flexible sides that give when you put your bags away.

Storage: When not in use, your rolling duffel bag not only collapses to easily stow away in small spaces, but it gives you a smart option for storage, as well. When not in use, a duffel can be filled with summer or winter clothes as those seasons come to a close. Fill the wheeled duffel up in your bedroom or walk-in closet and roll it away to a safe place until the season for those clothes rolls around again.

Weight: Lighter than a traditional hard-sided piece of luggage, your wheeled duffel bag will not only be easier on your hands as you roll it from place to place but easier on your back, as well. Sometimes you cannot roll your bag due to rough terrain or the need for a quick crossing. When the situation arises in which you have to carry your load, your hands and back will thank you due to the lighter weight of a duffel.

Buy Rolling Duffels
Back to Guides Directory