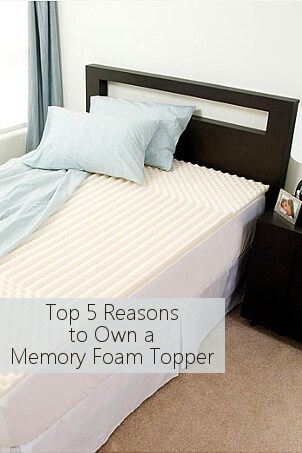 If you like to sleep well, nothing will help you quite like a memory foam topper. Memory foam mattress toppers can turn any bed into a place of dreamy, soft comfort. There are a lot of reasons to own memory foam toppers, and everyone has a different motive for owning one. Not sure if you need a memory foam mattress topper? These reasons may change your mind.
Memory Foam Mattress Toppers:

Comfort: The most obvious reason to own a memory foam mattress topper, naturally, is comfort. These toppers are certain to turn any mattress into a luxurious, amazing piece of bedding. You'll find twin-size mattress toppers, twin-XL mattress toppers, full-size mattress toppers, queen-size mattress toppers, king-size mattress toppers, and even California king-size mattress toppers. What does this mean for you, the discriminating sleeper? It means you don't have to worry about what size of bed you have, as there are mattress toppers for everyone.

Big savings: Before you think about throwing out your old, stiff mattress, think again; buying a brand-new mattress is a big investment. Instead of tossing your old bed, consider buying a memory foam topper. Memory foam toppers are major mattress savers. If you feel like your mattress could use a lift, don't give up on it. Give it a boost of comfort with the help of a memory foam topper.

Protection: Besides offering never-ending comfort for your mattress, memory foam mattress toppers will also do an excellent job of protecting it. People with new mattresses frequently purchase memory foam toppers to extend the life of their investment. By adding a foam topper to your mattress, you will shield it from stains and other hazards.

Aches and pains: If you have sore bones or muscles, nothing helps relieve them quite like memory foam mattress toppers. These bedding wonders are also fantastic for aching backs.

Couple comfort: Have a restless sleep partner? With a memory foam topper, you never have to worry about your partner's movement waking you up again. Memory foam absorbs movement, allowing each person in the bed their own personal, undisturbed space.
What Do You Want to Do Next?

Shop Memory Foam Mattress Toppers
See All Memory Foam Bedding
See All Guides
Read More Bedding Guides
Learn More about Memory Foam