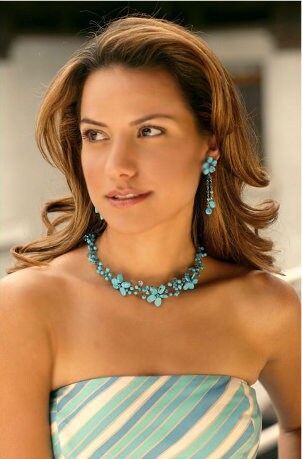 There are many reasons to add handmade beaded jewelry to your jewelry collection, and as handmade jewelry becomes more popular, the reasons to buy it will increase, too. Join in with the trend and purchase handcrafted beaded jewelry for yourself and to give as gifts. Like sterling silver and precious gemstones, handcrafted beaded jewelry will never go out of style. If you need more convincing, keep reading to discover the top five reasons to buy handmade beaded jewelry.
Why Buy Handmade Jewelry:

Jewelry makes great gifts. The variety of handmade jewelry makes it a fantastic gift idea. Beaded jewelry is an especially good gift idea because it is generally easy to store and care for. Give beaded necklaces with multiple strands and layers of beads to your daughter or niece; she'll be the talk of the town when she wears her new jewelry to school. For your best friend or your mother, consider elegant beaded necklaces with pendants to help her show off her favorite color and good taste. Look for a bead jewelry set that includes a necklace, bracelet and pair of earrings for a truly fabulous gift.

It is appropriate for a variety of occasions. The same variety that makes handmade beaded jewelry a great gift idea also makes it an appropriate accessory for nearly every occasion. For formal events, choose handmade beaded jewelry with delicate sterling silver strands and small, uniform beads. Bead jewelry like this will accent your formalwear without detracting from your look or stealing all the attention. At parties, you can wear something bigger and bolder; chunky beaded bracelets, cuffs or jewelry with jangling beads are designed to get you noticed, and a party is the perfect place to wear noticeable jewelry. Work-appropriate handcrafted beaded jewelry could include a pendant necklace or a simple pearl beaded bracelet. Handmade beaded jewelry is applicable everywhere you go.

Handmade jewelry is unique. While there is a huge variety of handmade beaded jewelry to choose from, each piece of handcrafted jewelry is unique. This is because handcrafted jewelry is not mass produced, so even though an artisan may have made several items from the same pattern, each will have individual differences in the size, shape and color of the beads. To achieve a unique look, consider handmade beaded jewelry; you will probably be the only person you know with that piece of jewelry.

It can become the signature piece of your collection. Handcrafted jewelry can easily become the signature piece of your collection, the one you wear to host parties and that gets you compliments every time. Because handmade beaded jewelry is so unique and easy to build ensembles around, your thick beaded bracelet, elegant pendant necklace or charming cocktail ring is bound to become a go-to piece in your jewelry box.

Handmade beaded jewelry is affordable. It's amazing how inexpensive quality handmade jewelry can be. Because handmade beaded jewelry isn't attached to a big designer name, it's less expensive. At the same time, handcrafted jewelry is of very high quality because it's handmade. This paradox makes handmade beaded jewelry a fine investment for your jewelry collection.

Buy Handmade Jewerly
Back to Guides Directory