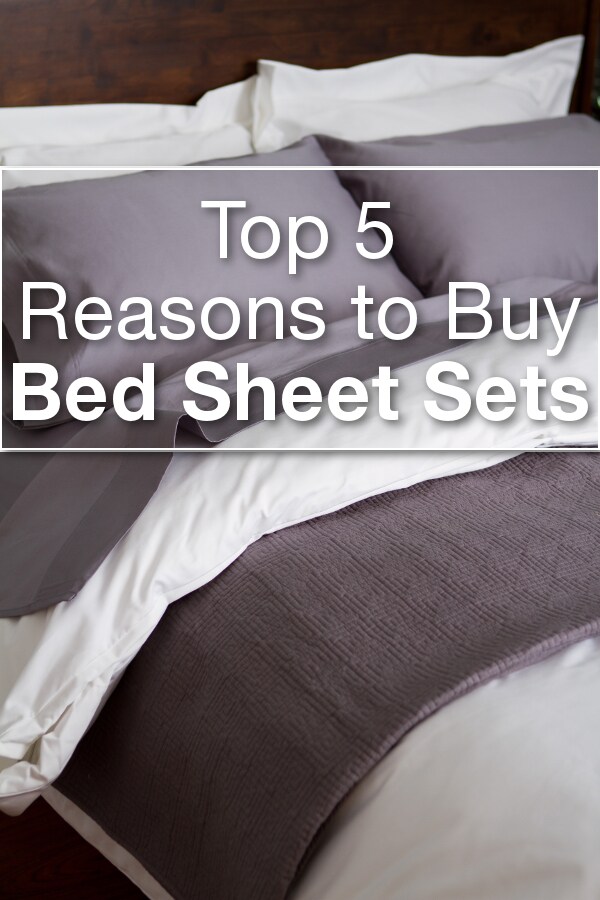 SHOP SHEETS NOW >>
Decorating your bedroom is made simple with sheet sets in coordinating colors and styles. Bed sheet sets take the guesswork out of buying sheets by including a matching flat sheet, fitted sheet, and pillowcases all in one ensemble. From children's character sheet sets to cozy jersey cotton sheet sets, you can find whatever style you're looking all in one convenient package. Keep reading to explore the top five reasons to buy bed sheet sets.
Why Buy Bed Sheet Sets:

You get the right fit every time. Even with standard sizing regulations, different brands can have a different fit. When you purchase bedding in a sheet set, you know you'll be getting one uniformly sized set. If you have an oversized mattress, extra-deep bed sheet sets will ensure that both the flat and fitted sheet will fit perfectly on your bed. Hard-to-fit mattress sizes, like twin XL and California king, can be easily covered with a bed sheet sets that are specially sized to fit -- right down to the pillowcases.

Bed sheet sets are easy to store. When you have all the matching pieces of a sheet set, it's easy to organize your linen closet. Simply fold the flat and fitted sheets, and then slip them in a pillowcase for a stackable storage option. You'll never have to waste time searching for coordinating sheets and pillowcases or outfitting your bed with mismatched sheets.

Decorating has never been easier. With bed sheet sets, creating a stylish space is easy. Sheet sets come in a wide variety of colors and patterns, so all you have to do is pick one out that matches your design scheme. Some bed sheets sets even feature mixed patterns that work cohesively together to make a bold design statement.

Your sheets will get even wear. The biggest problem with purchasing individual bedding sets at different times is the uneven amount of wear your sheets will get. Instead of replacing your sheets at different times, snag a sheet set that will last until you're ready to replace the whole set. Get one for every bed in the house and you'll alleviate the headache caused by replacing all of your bedding at separate times.

Buying specialty bedding is made simple. For hard to fit beds like daybeds and waterbeds, buying sheets in a set can be a lifesaver. Sheet sets that are made to outfit specialty beds like these are tailored to fit right and won't leave you searching for an individual flat and fitted sheet that works with your unique bed setup. Some waterbed sheet sets even sew the top and bottom sheets together for a set that will stay snug all night.

Shop Sheets
Shop Pillow Cases
Shop All Bedding & Bath
See All Guides
Read More Bedding Guides
Learn More about Sheets
Published September 29, 2011
Updated January 19, 2015