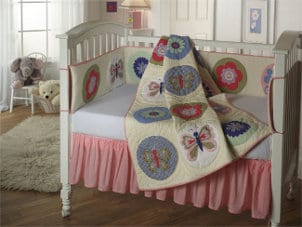 Many expectant parents are choosing to buy a convertible crib rather than a standard crib for their baby's nursery. Convertible cribs usually convert from a baby crib to a toddler bed, and some even convert to a twin-size bed for older children. Convertible cribs are typically more expensive than other styles of baby cribs, but are increasingly more popular with parents because of their versatility and convenience. Read on to learn the top five reasons to consider buying a convertible crib when you are shopping for cribs for your baby.
Buying Convertible Cribs:

Spend to save: While convertible cribs are often more expensive than other styles of cribs, convertible cribs can save you money in the long run. Since convertible baby cribs are a piece of baby furniture designed to grow with your child, they eliminate the need to buy a toddler bed or larger bed in the future. Similarly, you can continue using the same mattress as you change your convertible crib from crib to bed, so you won't need to spend money on new mattresses either.

Time well spent: Just as convertible baby cribs can save you money in the long run, they can also save you time. When you have a convertible baby crib in your child's nursery, you don't need to worry about shopping around for a toddler bed once your baby has outgrown his crib. Convertible cribs are also easy to convert. You typically only need to remove one side of the crib to change it to a daybed for a toddler, saving you time spent assembling another bed.

It's in the look: Many parents design their nursery with plans of adapting it for a toddler when their child grows older. It's easy to continue using the same nursery furniture when you choose a convertible crib for the room. A convertible crib will also save you the hassle of trying to find a toddler bed to match your existing nursery furniture. Easily keep the look and feel of the nursery you love with a convertible bed.

Easier transitions: Many children grow attached to their cribs, making the transition from a baby crib to a toddler bed hard on both the child and parents. When you purchase a baby convertible crib, however, this transition is made easier. Toddlers will be more likely to accept a toddler bed if it is the same bed they've become attached to but with a few changes.

Built to last: Since convertible cribs are designed to last through several years of your child's life, they are built to be especially sturdy. If you're concerned about the quality of your baby furniture, or you want something that is designed to last, a convertible crib is ideal for you. Baby convertible cribs can often even be passed down to younger siblings who may come along later.

Buy Cribs
Back to Guides Directory