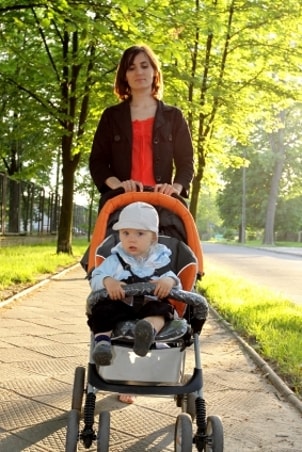 Car seats and strollers are among the first things you buy for your baby because they help keep your baby safe while you're away from home. There are plenty of options available, including car seat strollers and travel systems. Many parents choose to buy a car seat travel system for their baby, which typically include a car seat, car seat base and stroller. If you're expecting a baby, read the following reasons to buy a car seat stroller system to help you make the decision when the time comes.
Reasons to Buy a Car Seat Stroller:

Convenience: Perhaps the most common reason to buy a car seat stroller system is that they are extremely convenient. The car seat clips easily into a car seat base for the car, then onto a stroller base so you don't have to move your baby from one to the other. You also have the option of unclipping the car seat from its car base and carrying your baby in her car seat. This is especially convenient if your baby is sleeping and you don't want to disturb her.

Safety: There are several safety advantages to travel systems that many parents prefer. Rather than moving your baby from car seat to stroller and back, you simply have to move the car seat itself, reducing the risk of injury. Furthermore, clipping the car seat to a car base or stroller base keeps the car seat, and your baby, extremely secure while on the road or in the stroller.

Budget-friendly: While a car seat stroller system is typically more expensive than a car seat or stroller by itself, buying a travel system can be much less expensive than buying all the pieces separately. Many travel systems even feature convertible car seats and strollers that can grow with your baby, eliminating the need to buy additional car seats and strollers down the road, which saves you even more money.

Style: Your car seat and stroller certainly don't need to match to be effective, but when you buy a travel system, having matching pieces is an extra benefit. If you love the colorful print of your car seat, a matching stroller will make your baby the most stylish in town. Many companies sell a full line of matching baby gear as well, such as playards, high chairs and baby swings.

Longevity: Many car seat stroller systems offer convertible pieces that can grow with your child. An infant car seat can be switched to a forward-facing car seat on the same base, and most travel system strollers allow you to attach an infant car seat for young babies while still offering a regular stroller seat for toddlers.

Buy Car Seat Travel Systems
Back to Guides Directory