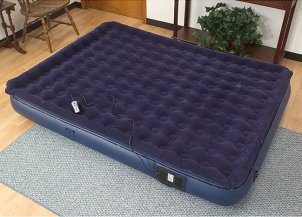 Air mattresses aren't what they used to be. Nowadays, air mattresses offer a slew of sleep-inducing features, like pillow tops, memory foam mattress pads and even built in MP3s, vastly improving on their giant-sized, pool-toy predecessors. As features improve, air mattresses, also known as air beds, are becoming more and more popular and are being used for a number of different functions, even in place of regular mattresses. Keep reading to find out the top five ways that you can get the most out of your air mattress.
Reasons to Buy an Air Mattress:

Pack an air mattress for your camping trip. The great outdoors can feel not-so-great after a long night on hard ground, and traditional camp bedding doesn't offer much added comfort. Air mattresses pack down small enough to fit easily in the back of the truck or the bottom of a backpack, inflate quickly with a small foot pump and offer support and comfort that you'll never get from a foam camping pad.

Take an air mattress on your travels. Guest beds and hotel mattresses are hit-and-miss at best, and your back lets you know when it's a miss. Air beds offer firm back support, and many modern models feature soft pillow tops, making them more comfortable than ever. If you love to travel but hate waking up aching, stow an air bed in your suitcase on your next trip.

Offer an air mattress to your guests. If you live in a small apartment or sometimes host more guests than you have guest beds, air mattresses can be a great way to accommodate everyone. Today's air mattresses are extra comfy; some people even use them in place of standard mattresses, and you can easily inflate one in any room of the house. When the guests leave, you can have the whole air mattress deflated and packed in the closet in minutes.

Send an air mattress to your student's dorm room. Unlike hotel mattresses, dorm room mattresses are not hit-and-miss: They are uniformly terrible. Send an air bed to school with your student as a replacement mattress. An air bed can fit right on top of a standard box spring and will fit normal bedding and sheets, or you can even get a raised air mattress that eliminates the need for a box spring altogether. A cheap air mattress is a great way to ensure that your student sleeps comfortably without having to shell out the cash for a regular mattress.

Blow up an air mattress for your kids' sleepovers. Think how much fun your kids will have with their sleepovers when you throw an air bed into the mix. Air beds add to the fun of overnighters while ensuring that your children and their friends sleep well (if they sleep at all). Air mattresses are more durable than ever, and with a little bit of searching online, you can easily find great deals on high-quality air mattresses.

Buy Air Beds
Back to Guides Directory