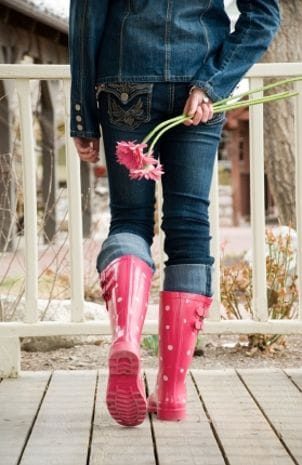 For splashing in puddles or simply navigating slippery sidewalks, you can't beat rain boots, especially ones in your favorite colors and patterns. Update your collection of boring brown and black cold-weather boots with bright women's rain boots and patterned tights. Once you've got the outfit and great plaid rain boots, you just need a fierce thunderstorm and a great song to sing. Read on for the top 5 rain boots that'll have you puddle-jumping all night long.
Great Women's Rain Boots:

Lined. If you live in a particularly chilly climate, you'll want to purchase lined rain boots so your feet stay warm. Look for women's rain boots lined with a soft knit fabric or fleece to keep your toes toasty, or buy puddle boots that include durable rubber soles and thick knit shafts for the ultimate in warmth. Puddle boots are often shorter in height than traditional rain boots for women, so be sure to tuck your jeans or tights into them to stay dry.

Solid. Whether you plan to wear women's boots beneath your jeans or as a fashion statement with a cozy wool skirt, you'll want solid rubber rain boots that go with everything. Purchase black rain boots for a classic style that's even appropriate to wear to the office before slipping on your heels, or find brown or grey boots for a different look.

Patterned. Yes, you want to stay dry during rainy or slushy weather, but why not look cute in the process? Buy a funky pair of red plaid rain boots and wear a black knee-length skirt and a thick sweater for a prep school vibe, or find floral print rain boots for women you can tuck skinny jeans into for a laid-back look.

Mid-calf. Flattering on many different women, rubber rain boots that hit at mid-calf will protect your feet, ankles and calves from mud and water. For petite women who want to elongate their legs, women's boots that include buckles, ties or toggles near the shaft will bring the eyes upward. Black rain boots will also make the legs look slimmer and longer, especially if paired with opaque black tights.

Rugged. When you're worried about slipping on icy sidewalks or falling face-first into mud puddles, you need a pair of rain boots for women that have especially durable soles. Buy rubber rain boots with treaded soles for traction, or look for thick lined rain boots that feature a textured rubber sole to grip the ground well.

Buy Women's Boots
Back to Guides Directory