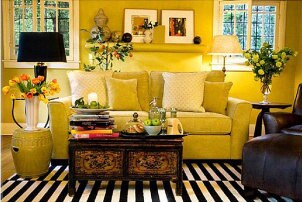 Area rugs are a quick, easy way to change the look of any room in your home or office. Area rugs come in a variety of sizes, shapes, colors and textures, so you can find one to complement whatever decorating style you've chosen for your home. The right area rug, be it comfy cotton or an artful silk blend, can make any room more inviting. Read on for answers to the top five questions about area rugs and you'll be ready to decorate.
5 Questions about Area Rugs:

Will my vacuum damage my rugs?
Most new vacuums are made to switch from carpets to rugs, but if you're concerned about your rug, it's worth double-checking. If it's possible, turn off the beater bar on your vacuum or use a different attachment made for cleaning rugs. If you suspect that your vacuum isn't getting all of the dirt, take your rug outside and give it a good beating. A tennis racket is a good tool, or a broom will work just as well. After you've beaten out some dirt, go ahead and vacuum the rug again.

Do natural rugs, like wool and cotton, shed?
Wool rugs will shed a bit more than cotton, but you can expect most rugs to have a few "fuzzies" when you vacuum them and when you first get them. This is normal, so don't worry, and the shedding should decrease with time.

Can rugs be original?
If you love decor that is totally unique, shop for distinctive rugs. One-of-a-kind rugs are easier to find than you'd think, and you don't have to travel to Persia to find one. In our Worldstock store, you can find a beautiful, handmade area rug that will be original, and because you're finding it on Worldstock, you're helping an artisan weaver make a living off his or her art. Worldstock area rugs are a great addition to any home.

Can I accessorize with rugs?
Because rugs are such a prominent feature in a room, many people decide to decorate their spaces based on their area rugs. This can be a fantastic and creative way to accessorize your home. Look for floor vases, decorative pillows and side tables that will complement the design, colors and style of your area rugs. If you get very ambitious, you can even use rugs as wall art. Navajo rugs and needlepoint rugs make wonderful wall tapestries.

What size rug do I need?
Choosing a rug size depends a lot on what look you're going for. If you want to allow the floor to show, then one or more small rugs are your best choice. If you want the floor mostly covered, then a larger rug will serve you better. If you choose small rugs, you can mix-and-match sizes and colors; essentially, you can create whatever look you think is best. When you pick a large rug, make sure it's big enough that all your furniture fits completely on the rug; you don't want an arm chair or table hanging halfway off the edge of the rug.

Buy Area Rugs
Back to Guides Directory