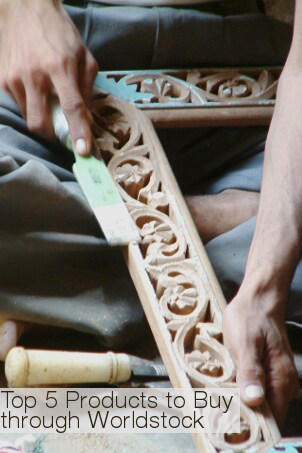 Did You Know:
Worldstock products ship carbon neutral.
All net profits fund philanthropic projects.
Over $100 million has been returned to artisans.
The Worldstock Fair Trade store is a great place to find unique items from throughout the world. Most products are handmade by artisans who employ local traditions and techniques, offering you a large collection of cultural designs and products. Here is a list of the best products to buy through Worldstock Fair Trade.
Top 5 Worldstock Products:

Clothing: World designs are a big trend in fashion right now. Why not try the real thing and buy a few pieces of Worldstock clothing? From tunics to dresses, you can find designs from all over the world to fill your closet. These handmade clothes are high-quality and one-of-a-kind pieces you won't find at the mall. Look for fun accessories to add to your wardrobe, too, like hand-woven scarves and bags.

Furniture: If you're looking to freshen up your home decor, consider purchasing handmade furniture. There are endless furniture-making techniques from throughout the world, each with its unique charms. You can choose a small accent piece, like a side or coffee table, or you can furnish a whole room or house with high-quality, handmade designs from many countries.

Jewelry: There's a huge market for handmade jewelry, and when you buy handmade from Worldstock, you're getting something with a cultural touch to it as well. World jewelry showcases local artistic traditions since jewelry has a deep history in nearly every culture in the world. You'll find jewelry made with hard-to-find local materials as well, including gemstones and shells.

Rugs: Many of the area rugs you'll find in the Worldstock store are handmade, featuring some of the oldest and most detailed techniques in the world, including hand-knotting. Worldstock rugs are beautiful creations for your home, showcasing high-quality craftsmanship and design. Among the handmade rugs, you'll find authentic Persian rugs, some of the most sought-after rugs in the world.

Gifts: What better way to show someone you care than to share the world's most beautiful designs with them? Consider giving a friend a journal with handmade papers and a matching pen, or entertain your children with games and toys from different cultures. Decorative home accessories from around the world -- like throw pillows, figurines, or vases -- also make excellent gifts.
What Do You Want to Do Next?

Shop Worldstock Rugs
Shop Worldstock Furniture
Shop All Worldstock Fair Trade
See All Guides
Get More Online Shopping Tips
Learn More about Comparison Shopping
Learn More about Worldstock