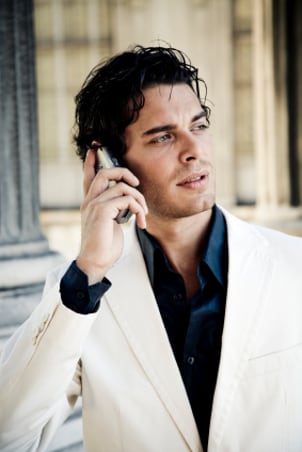 From special occasions to business meetings, men's suits can help you look your best. Having a men's suit in your closet will prepare you for a variety of events that call for a dressy wardrobe. With several styles of men's suits available, it can be tricky to determine which suits to wear when. The following tips can help you dress your best in the right suit for the right occasion. Read on to learn the top five places to wear men's suits.
When to Wear a Suit:

Business: Wearing a business suit to the office can certainly make a good impression. Whether you're wearing a suit to the office every day or dressing up for important business meetings, you'll want to have an appropriate business suit to wear. Look for classic navy or grey suits, or try a pinstripe suit. Suit separates are great for the office as well. You can wear a pair of suit pants all day and throw on a suit jacket for meetings and business lunches.

Weddings: As a member of the wedding party, or as a wedding guest, you'll look clean-cut in a handsome dress suit. Weddings are certainly formal events, but you'll also want to look modern and fashionable. Look for slim-fit suits in tan or grey. If you're the groom or a member of the wedding party, a more formal, black suit is best. You may even want to wear a 3-piece suit or even a tuxedo to look extra sharp on the big day.

Cultural events: If you're headed to the opera or the art museum, you'll want to dress appropriately. An attractive designer suit is the perfect attire for cultural events, like the theater or benefits. An elegant, two-button suit in black or navy is the perfect choice for formal evenings out. Pair your men's suit with a silk tie to complete the look.

Dances and parties: From high school proms to elegant black-and-white dinner parties, men's suits will always impress. For your most formal events, consider wearing a 3-piece suit or tuxedo. If the party you are attending is less formal, but you still want to look your best, consider a modern dress suit, such as a slim-fit suit or popular designer suit, in a neutral grey or taupe shade.

Church: Attending church usually calls for something a bit dressier. Wearing men's suits to church and religious occasions is always appropriate. Consider a dress suit for special occasions, such as baptisms and church weddings, and suit separates for Sunday worship. You can even pair tan suit pants with a navy or black suit jacket for a slightly more casual look.

Buy Men's Suits
Back to Guides Directory