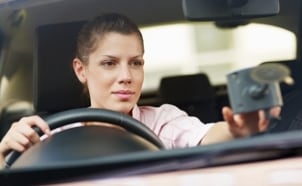 You may have noticed that GPS systems seem to be everywhere now. GPS navigation has quickly been integrated into cars, cell phones and other portable devices, making it easier than ever to get directions, find businesses and even get live traffic and weather data. As portable GPS technology gets easier to use, you may start looking for different ways you can make use of it. Here are five places you can use GPS navigation for fun or just for getting around.
Places to Use Your GPS:

Driving across country. One of the earliest GPS applications for private citizens was navigating the roads and byways. Lots of people can remember sitting at a gas station with a roadmap spread across the hood, trying to find where they took that wrong turn. With a GPS, you can set up step-by-step directions to your destination, whether it's across town or across the country. And your GPS will adjust directions to get you back on track if you get lost.

Flying the friendly skies. With a GPS mounted on the control panel, pilots have another useful tool for navigating the skies, getting live weather data and adjusting flight plans. Special maps are available for aviators, with airport data and unique navigation tools.

On the open water. Anglers and water-sports enthusiasts can use GPS to mark their secret fishing spots. A GPS can also assist in search and rescue if someone falls overboard. Mark the GPS location and call the authorities for help.

Hiking the trail. A handheld GPS is the outdoorsman's newest navigational tool. If you're out hiking or hunting, use topographical GPS maps to give you an idea of the area's terrain and the best routes to take. Most GPS units are receivers only, but a GPS with transmitter capability can assist search and rescue teams if you're in distress. When it comes to safety, though, a GPS should still be used with a backup paper map and compass.

Navigating your city. Driving directions with a GPS are great. But what about navigating public transit, like buses, light rail or the subway? You may be able to download GPS maps of your metro area with public transit maps, schedules and even live tracking to tell you when that next bus will be rolling by.

Buy GPS Navigation
Back to Guides Directory