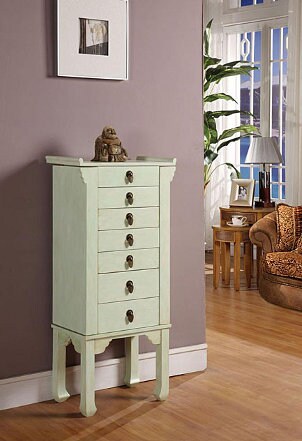 Stunning jewelry armoires exist in a variety of styles. Asian-inspired treasure chests, oversized sterling silver jewelry boxes, mirrored Art Deco armoires and supple leather chests may catch your eye, but how can you introduce them into your home? An accent jewelry armoire doesn't need to match your home's decor, but it should be conveniently and artfully placed.
Best Places for Jewelry Armoires:

Inside your walk-in closet: Keeping a jewelry armoire inside your walk-in closet is incredibly convenient. When assembling an outfit, you can open up the armoire and consider your collection of accessories without having to walk from room to room. Choose a mirrored jewelry armoire with gold accents for luxurious closet decor.

Next to your dresser: If you don't have a walk-in closet or if you store most of your clothing in a chest of drawers, then place a jewelry armoire next to or on top of your dresser. Leather and wood jewelry armoires will add style and texture to your bedroom.

On your wall: Wall-mounted jewelry armoires are convenient, too, especially in smaller spaces. These armoires hang on the wall like medicine cabinets. Most of them feature a mirrored door. Choose a bright red armoire if you are looking for an artistic piece.

Near your front door: If you have a stylish jewelry armoire that you really want to show off, then place it in your living room or foyer. Many jewelry armoires are designed to blend seamlessly with antique tables and contemporary sofas. Having a jewelry box near your front door allows you to quickly add accessories to an outfit. It also means that you have a safe place to put your watch, keys and wallet right when you walk through the door.

Next to your bed: Large armoires can double as nightstands. If you have extra space in your jewelry armoire or if you don't have room in your bedroom for both the armoire and a nightstand, then use the armoire for both. This provides your bedroom with a clean, stylish look and a convenient layout.

Buy Jewelry Boxes
Back to Guides Directory