Top 5 Pieces of Poolside Furniture
by Andrea Sparks
A backyard pool is a fun place for the family to get together during the summer. You can make your pool area even more comfortable and useable for your family with the addition of some patio furniture around the pool. If you have a pool or are thinking about getting one, consider some of these poolside furniture options for your backyard.
Best Poolside Furniture: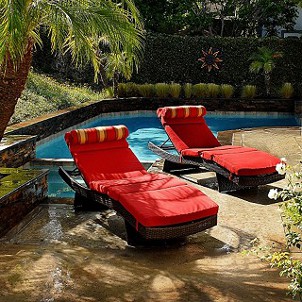 Shop Poolside Furniture ▸
Chaise lounges:

Every pool area needs a place where people can lie out in the sun, and chaise lounges are the most popular option. You can choose from basic wicker or wood designs or go for comfort with a lounge upholstered in outdoor fabric. Set up a group of lounges next to the pool where they'll be easy to access after you take a dip.

Bistro sets:

Take a break from swimming and have a glass of lemonade or a light lunch right in the backyard at a bistro set next to the pool. These dining sets typically sit two to four people and are much taller than a regular table and chairs, protecting them and your food from splashes from the pool. Iron is a popular material for bistro sets ,but it can get hot in the sun. You may want to consider a glass or wood design for next to the pool.

Outdoor sectionals:

If you're planning on having pool parties or just spending time with the family in the backyard, a sectional sofa provides plenty of poolside seating. Your guests can sit and mingle after taking a dip, and your family can enjoy some time next to the pool on a hot summer afternoon. Look for a sectional upholstered in all-weather fabrics and add a few outdoor throw pillows to make it extra comfortable.

Hammock:

There's nothing like relaxing by the pool on a hot summer day, and there are few better ways to relax than in a hammock. You can hang a hammock between two trees near your pool or on a hammock stand that can be moved around to where you need it. Look for hammocks made of all-weather fabrics and materials that can withstand water and sunshine.

Adirondack chairs:

This classic beachside chair works just as well in your backyard as it does on a sandy beach. Adirondacks feature a wide seat, high back and wooden design that is both comfortable and resistant to water and humidity. Look for Adirondack chairs in bright colors to add a summery touch to your backyard pool decor or go classic with a set of white chairs set side by side.