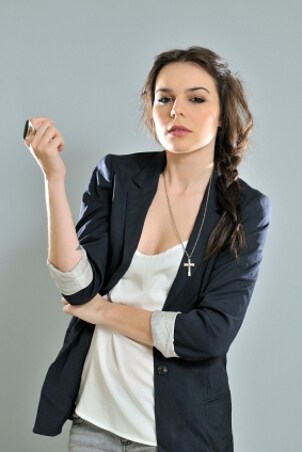 Showcase your religious beliefs with a shiny new piece of cross jewelry. You have many religious necklaces, bracelets, rings and earrings to choose from when shopping for jewelry. The best cross jewelry is the jewelry that matches your current wardrobe. To choose religious jewelry for your collection, consider these top five pieces of cross jewelry.
Best Cross Jewelry:

Titanium cross pendants: Cross pendants have a history of being dainty and feminine, but titanium cross pendants are sleek, modern and masculine. Both men and women can wear titanium religious jewelry with all of their modern outfits. Oversized titanium cross pendants are especially cool and add a lot of shine to your cross jewelry collection.

Gold cross charms: Charms allow you to personalize a charm bracelet, handbag or necklace chain with tons of sparkle. To keep your look trendy, indulge in a few gold cross charms. Gold charms are durable and highly fashionable. Choose several pieces of petite gold cross jewelry and personalize necklaces, bracelets and accessories.

Two-tone cross earrings: Some of the most fashionable cross jewelry incorporates both yellow gold and white gold into one modern style. Two-tone cross earrings can be worn with gold necklaces, silver bracelets and platinum rings. Choose from two-tone cross earrings in stud or dangling styles.

Diamond cross bracelets: Diamond cross jewelry is nice enough for formal occasions, but it is also neutral enough to wear every day. Diamond bracelets with cross embellishments will go well with your other fancy bracelets and religious jewelry. Stack a diamond cross bracelet with gold bangles or wear it with braided leather jewelry. You can craft your own look using diamond religious jewelry.

Sterling silver cross rings: Pretty rings with simple cross designs and embellishments are the perfect pieces of cross jewelry to wear daily. Sterling silver is malleable, which allows jewelry artisans to shape it into lovely rings in a variety of styles. Choose a simple sterling silver band with crosses etched into the top or select a sterling silver ring with a dangling cross pendant. You can wear sterling silver cross rings with dresses, suits and jeans, and they also make fabulous gifts for special occasions and religious milestones.

Buy Religious Necklaces
Back to Guides Directory