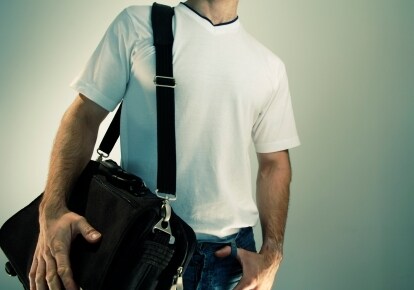 Work might keep you busy, but our huge selection of on-the-go computer bags is ready to help you meet the demands of your busy schedule. You're going to want a reliable laptop case you can count on no matter where work takes you. Luckily, many practical and affordable computer bags exist to make the journey easier. Whether flying from coast to coast, biking to the other side of town or just looking for a reliable laptop bag for work or school, you'll be able to find just what you need for the commute. Here are some of the best options for those of you who are always on the move.
Computer Bags for Traveling:

Laptop backpacks: Not only do laptop backpacks provide a very safe and secure way to transport your laptop; they have plenty of additional storage to help pack in all your odds and ends. If you never seem to have quite enough space to fit everything, a laptop backpack might just be the computer bag for you. Unlike some other bags, a laptop backpack is easy to travel with on a bike or a long walk.

Rolling business cases: For businessmen and women, a rolling computer case is a sleek and professional way to travel. The extensive selection includes cases in several fabrics, including leather, and in many different colors and styles. The additional storage found in most rolling business cases will make it easy to bring along all the materials you'll need in addition to your laptop. Instead of straining yourself with a heavy bag, let your materials glide easily behind you in a rolling computer case.

Laptop totes: Want a thin computer case with some limited storage? A laptop tote is your perfect match. Most computer totes are small and compact with a limited number of additional pockets. The small size will save you space in a plane or car, and you'll still have some space to store a few extra items.

Computer messenger bags: Messenger bags are especially fashionable for a short city commute. You'll appreciate the lightweight design after a day of hard work, and retailers offer a variety of bags in every style and fabric. With a computer messenger bag, you'll be able to get in and out of your destination minus the hassle.

Notebook sleeves: For a sleek, lightweight way to carry your laptop, a notebook computer sleeve is an excellent option. Computer sleeves will fit snugly around your laptop to protect it from bumps and scratches. Meanwhile, carry your notebook sleeve alone or slide it into another storage unit for extra protection.

Buy Laptop Cases
Back to Guides Directory