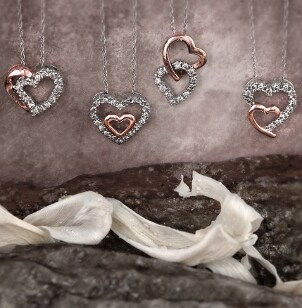 Jewelry is often the best gift for every occasion. If the girl or woman in your life deserves a special diamond jewelry gift, consider diamond heart necklaces. Diamond heart necklaces and heart pendants are luxurious and romantic. Surprise your girlfriend with a white gold diamond necklace heart pendant that she can wear with her favorite cocktail dress. Show your daughter how proud you are with a diamond heart pendant at her college graduation. The special lady in your life can wear her diamond heart pendant anytime and think of your love and support. Consider our top five occasions for giving diamond heart necklaces when you are shopping for diamond jewelry and luxury heart necklaces.
Gifting a Diamond Heart Pendant:

Romantic occasions: Diamond jewelry says a lot on romantic occasions, such as weddings, engagements and anniversaries. Diamond necklaces with a heart theme are wonderful and meaningful when given with love. Surprise your wife with an anniversary diamond pendant and watch her face light up. You might consider giving your daughter a diamond necklace on her wedding day or surprising your sister with a heart diamond pendant at her engagement party.

Birthdays: You might feel a lot of pressure to find the right birthday gift, especially when you are shopping for someone very special. Diamond jewelry never disappoints and is perfect for women and girls of all ages. You can give a diamond heart pendant to your 25-year-old girlfriend, your 50-year-old mother or your 15-year-old sister. Make a birthday special with diamond heart jewelry.

Accomplishments: Major accomplishments and milestones call for tremendous gifts. Diamond jewelry is the perfect way to celebrate a promotion, a graduation, a new baby, a new job and even reaching a personal weight-loss goal. Celebrate any special milestone with a diamond heart pendant.

Gifting holidays: The many gifting holidays throughout the year call for spectacular diamond jewelry. Diamond heart pendants are appropriate for Valentine's Day, Mother's Day, Hanukkah and Christmas, and you can give diamond necklaces on additional holidays that are special to you personally. Remember the holidays of the year with beautiful diamonds.

Surprise her: Sometimes the very best gifts are completely unexpected. If you want to thank your wife for being there for you, show your mom how much you appreciate her or give your daughter a reason to love a Monday, consider giving diamond jewelry spontaneously. Diamond heart pendants are striking and will impress on any day of the week.

Buy Diamond Heart Necklaces
Back to Guides Directory