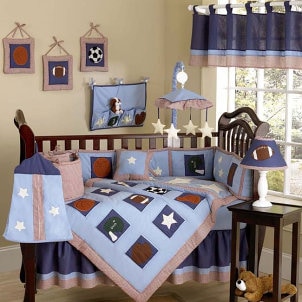 You can decorate your newborn baby boy's nursery in many ways. You can opt for something traditional or you can be as creative as you like. Whatever you do, be sure to choose something that you love and that you think will fit the personality of your little boy. One way to think about nursery decor is to think in terms of themes. Here are a few of the most popular nursery decor themes to help you decide how to decorate a nursery for your baby boy.
The Top 5 Nursery Ideas:

Calling all sports fans: Decorate the nursery with a sports theme. Use borders that include baseballs, basketballs or footballs. Include photos of sports teams and baby bedding decorated with specific team logos. Small accessories, like nightlights, mobiles and crib bumpers, can be decorated with sport logos, too.

Trains, planes and automobiles: Train, boat and truck themes are very popular for baby boy nurseries. A patchwork quilt with blue and red choo-choo trains, big yellow trucks or sail boats creates a look both you and your baby boy will love. Complete the look with a matching mobile, wall hanging and diaper stacker.

Teddy bear picnic: For a very traditional theme, paint the walls baby blue and choose soft blue baby bedding to match. A dark mahogany set of baby furniture with matching crib, rocking chair and changing table is very striking when paired with light blue walls and crib bedding. Place a large brown teddy bear on the rocking chair and decorate the room with teddy bear curtains, lamps and mobiles.

Getting wise with the times: If the traditional doesn't appeal to you, go for something different. Today's trendiest nurseries are doing away with gender-specific themes in favor of fresh designs and neutral color schemes. Animal themes are a wonderful idea for a gender-neutral nursery. Choose a single animal theme, like an owl in shades of brown and orange or a turtle in light and dark shades of green, or go for groups, such as arctic animals, barn animals or jungle animals.

Writing his name in the stars: Another popular way to decorate a nursery is to personalize it with your little boy's name. Hang large letters on the wall spelling out his name or use stencils to paint his name directly on the wall. Add a few wall hangings featuring stars next to his name. Sew or personalize his name with stars on pillows and bedding. A star nightlight and glow-in-the-dark stars on the ceiling will complete the look.

Buy Nursery Decor
Back to Guides Directory