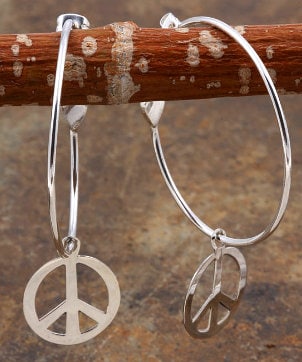 Don't let fashion trends define you. Use novelty earrings to create your very own style statements. When shopping for earrings, you'll find many different, exciting designs to choose from. Which styles showcase your personality best? Novelty earrings will help you express yourself. Novelty jewelry incorporates fun and whimsical shapes to help you keep life light and amusing. You can wear novelty fashion jewelry with anything you already own.
Fun Novelty Earrings:

Animals: Choose sterling silver paw print stud earrings, dangling gemstone owl earrings, or tree frog drop earrings if you love a bit of animal style. Look for black cat earrings covered in black diamonds and snake earrings decorated with rubies and emeralds, if you want to take this jewelry trend to the next level.

The tropics: Few things are as fun as a tropical vacation. Earrings depicting palm trees, flip-flops, tropical drinks, starfish, sun umbrellas, fruits, and tropical flowers will give you the surfer girl look even in the dead of winter. Pair tropical earrings with flowing sundresses or brightly colored sweaters.

Symbols: Showcase your ideals with symbolic earrings. Peace signs, yin yangs, Celtic knots, punctuation, and gender symbols will all fit perfectly on your earlobes. Collect symbolic novelty earrings in a variety of metals.

Good luck charms: Many symbols stand for luck; wearing these novelty earrings may bring you luck or simply infuse your style with whimsy. Clovers and horse shoes are classic good luck symbols, but many other symbols and numbers are lucky in a variety of cultures. Research good luck charms to find the best pair of earrings for your collection.

Fashion: Fashion accessories on earrings have become very popular. Shoes and handbags are among the most common fashion novelty earrings. Look for stilettos, shopper totes, and glittery sneakers to adorn your ear lobes. Fashion studs show the world how much you love stylish accessories and can be worn with both casual and dressy attire.

Buy Earrings
Back to Guides Directory