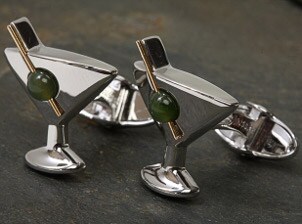 Cuff links add a polished look to a nice outfit, but that doesn't mean that you must own only diamond and gold cuff links. Novelty cuff links bring brevity to a workday ensemble or a formal outfit. Like other pieces of men's jewelry, novelty cuff links allow you to express your interests and put a stamp on anything you wear. Consider these styles when shopping for men's jewelry.
Novelty Cuff Links:

Peace signs: Whether you were around for the introduction of the peace sign into popular culture or you want to embrace this stylish symbol and all that it stands for, peace sign cufflinks are a great addition to your jewelry collection. Silver and gold peace signs are both good options, as are those embellished with colorful glass or precious gemstones.

Playing cards: International spies play cards while they steal secrets in movies young and old, and they always look their best. Add playful cards to your look with cuff links sporting aces. These cuff links just might become your luckiest pair, allowing you to play everyone out of their bets. Look for dice cuff links to complete your collection.

Anchors: Nautical jewelry is always classy. Little gold or silver anchors are no exception. When you're heading to the club for a few drinks with friends, use these cufflinks to bring the popularity of sailing to a nice ensemble. Propeller cufflinks with moving parts will also appeal to the nautical jewelry collector.

Working clocks: If you collect watches, then you'll love wearing a pair of cuff links with working watch faces. These cuff links are both functional and fashionable. Set one cuff link watch to represent current time and one to represent the time in your favorite foreign country. If you love your clock cuff links, then you'll get a kick out of cuff links featuring working compasses.

Beverages: If you like getting dressed up for drinks, then you'll love collecting cufflinks shaped like your favorite beverages. Martini, beer and wine cuff links are all great choices for the well-dressed drinking man.

Buy Cuff Links
Back to Guides Directory