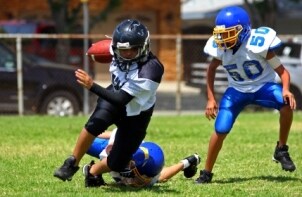 The right gear is important for any football player, but for kids, it's crucial. Whether your child plays on a school team or you need equipment for a youth football league, make sure to pick up all the necessary gear for complete protection. Here are the most important pieces to get.
Essential Football Gear:

Football helmet: Without a football helmet, you won't be able to compete. A good helmet is made to withstand a good deal of impact, and it protects a player from concussions and other damage to his head. Pick out a football helmet that will fit tightly without being uncomfortable. You don't want it to fly off during the game, but you also don't want to feel like you've squeezed your head in a vice. A snug helmet can give you the confidence that your head is completely safe. The attached facemask will also protect the face and nose.

Mouth guard: Using a mouth guard is a required practice for nearly any competitive or youth football league. A mouth guard will protect your jaw and teeth from impact. A mouth guard will also keep you from biting your tongue after a hit.

Football cleats: Make sure football cleats are a part of your football gear repertoire. To make quick side-steps or to prevent slipping in the middle of a play, you're going to need cleats. These should fit like other athletic shoes: snug enough to stay on when you're running, but not tight around the toes.

Shoulder pads: Although the name denotes the shoulders as the main point of protection, shoulder pads protect a large portion of the upper body from injury: the shoulders, chest, neck, and back. They come in two varieties: flat and cantilevered pads. Cantilevered pads are heavier and offer more protection while flat pads offer enhanced mobility but less protection. Be sure to pick out shoulder pads that best complement your football position.

Leg pads: Football games can be rough, so it's important to protect the legs as well as the upper body. Leg pads offer padding to the thighs, ankles, and other parts of the leg to soften impact.
What Do You Want to Do Next?

Start Shopping for Football Equipment
See All Team Sports Gear
See All Guides
Read More Sports & Fitness Guides
Learn More about Team Sports