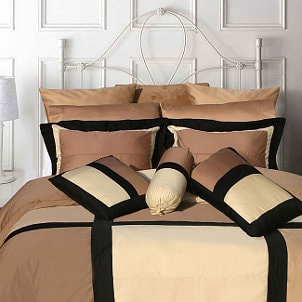 Like the art movement that inspired it, modern bedding is defined by bold lines and contemporary color schemes. Stark graphic prints and bright colors are best complemented with bedroom accessories that act as a backdrop to your luxury bedding. If you love the style of modern bedding but aren't sure how to create a cohesive style, this guide is for you. Keep reading to discover the top 5 modern bedding accents and you'll have a contemporary space in no time.
Best Modern Bedding Accessories:

A luxurious upholstered headboard: The clean lines of a contemporary upholstered headboard provide the drama your modern bedding needs without being overwhelming. When looking for a headboard that will complement your contemporary bedding, seek out solid colors and minimal accents. Whether you prefer the subtle elegance of a neutral-colored linen headboard or want the drama of a white leather headboard, choosing something with a simple shape will make your bedding shine.

Artistic framed prints: Bring the style of modern decor to your wall with framed prints. Hung in a cluster or line, framed prints of classic modern art pieces will play off your contemporary bedding and make your bedroom look pulled together. If bold is what you're going for, look for oversized prints from classic modern artists, like Vincent van Gogh and Andy Warhol. Art prints offer an affordable way to decorate without spending a fortune on artwork. All they need is a sleek frame, and they're ready to go.

Textured throw pillows: To keep the focus on your modern bedding set, opt for contemporary throw pillows that feature interesting textures rather than different colors. Solid microsuede accent pillows will add depth to your bed without stealing all the attention. Another good option is faux fur throw pillows. These soft, neutral-colored pillows go well with darker color schemes and add design details to your overall look.

Sleek bedside tables: To frame your modern bed, choose bedside tables that employ the use of angular shapes and solid finishes. A mirrored accent table without drawers adds polish to your luxury bedding, while a matte-black end table blends into your design scheme perfectly.

Simple lamps: Table lamps are little accessories that can add a lot of impact to your modern bedroom. Place one on each bedside table for a chic symmetrical look. Table lamps shouldn't be overwhelming, so if you're looking for something that works with modern bedding choose a style with a stainless steel base and a solid-colored square shade. The simplicity of your bedside lamp will help accentuate your stylish modern bedding set.

Buy Luxury Bedding
Back to Guides Directory