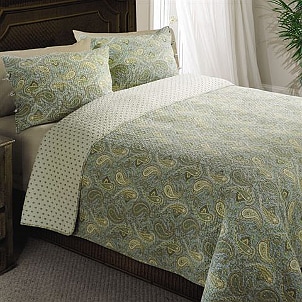 If you've never considered making quilts a part of your modern decor, you may want to think again. Bed quilts can look modern and chic when they have subtle patterns or colors in their design. Look for a modern quilt set when you want to re-energize your bedroom and add a dash of classic style. This guide will help you find the right quilt style for your bedroom, just keep reading for a list of the top five modern bed quilts.
Modern Bed Quilts:

Sophisticated patterns. Although the word quilt may evoke images of patchwork quilts and antiquated decor style, modern bed quilts are able to achieve a sophisticated look through the use of bold patterns. Boxy windowpane prints add a striking touch to your space, while damask and paisley prints will make your bed a trendy focal point. You can even go wild with animal-print quilts. These adventurous quilts are bold without being over-the-top and infuse your home with unique style.

Solid colors. The easiest way to decorate with quilts is to choose a solid-colored option. Contemporary solid-colored bedspreads create a blank canvas for your bedroom and let you infuse your own style with extra accent pillows, sheets and curtains. If you're going for a calm and relaxed style, be sure to pick up a solid-colored bed quilt.

Geometric quilting. The way a quilt is stitched can have a huge impact on the look of your bedding. Look for bed quilts with geometric patterns, like boxes or octagons, for a look inspired by modern decor.

Designer quilts. For modern bedding with an ultra-stylish touch, try designer quilts. Many top designers have jumped on the bedding bandwagon and are producing luxury quilts that will look elegant in your bedroom. Try a designer quilt set for an easy way to redecorate your bedroom.

Coverlets. Lightweight coverlets evoke the feeling of a quilt, without being bulky or heavy. Drape an oversized coverlet over your bed for a romantic look or keep one folded up on the end of your bed for cool nights. Coverlets provide just the right amount of warmth, and one can be used over a down comforter or on its own in warmer months.

Buy Quilts
Back to Guides Directory