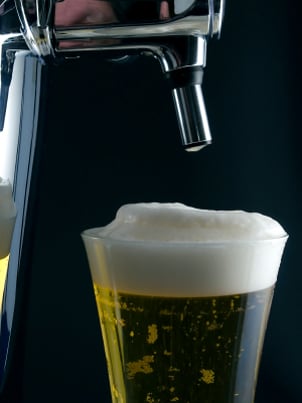 You consider your kitchen well-stocked with a shiny new microwave, a top-of-the-line blender and a high-end food processor, but don't put away that wish list just yet. Some modern appliances are so new that you may have not had the chance to learn about their amazing features. Others are a big improvement over their older counterparts. These five appliances are desirable additions to any modern kitchen.
The Latest Kitchen Appliances:

Keg dispenser: A keg dispenser is the ultimate party appliance. If you're tired of stocking up on cans or opening endless bottles of beer for party guests, then invest in a keg dispenser and offer up steins of your favorite beers effortlessly. Keg dispensers also keep large quantities of beer cold, so you save room in your fridge and your beer is always cold and ready to serve.

Countertop ice cream maker: Old-fashioned ice cream makers take time and effort, and they usually have to sit outside on the patio while you dash back and forth from the kitchen to get more ice and more salt. Modern countertop ice cream makers are much more streamlined. Simply freeze the inner bowl overnight; then add your ingredients and turn it on. Many countertop ice cream makers produce results in fewer than 30 minutes.

Immersion blender: When dealing with hot soups and sauces, traditional blenders are messy and dangerous. Keep everything in the pot or slow cooker with an immersion blender. These handheld blenders go directly into the sauce and blend effortlessly in a matter of minutes. If you love making your own creamy soups, thick tomato sauces or healthy vegetable purees, this tool is irreplaceable in your kitchen.

Panini press: When you tire of making your gourmet grilled cheese sandwiches on the stove, invest in a handy panini press. A panini press is wide enough for thick sandwiches filled with fresh vegetables and hearty slices of cheese. A goat cheese and roasted red pepper sandwich is just not the same when it's pressed with the back of a spatula. Most panini presses are large enough to grill several sandwiches at once.

Pizza oven: Are you still cooking pizzas in a conventional oven? Move into the future with one of the new pizza cookers. Some pizza ovens are built right into toaster ovens or convection ovens to save space. Others use new technology to cook a fresh or frozen pizza faster than any other method. A compact pizza oven is perfect for your basement, and portable ovens can go with you to the park for fresh pizza picnics.

Buy Appliances
Back to Guides Directory