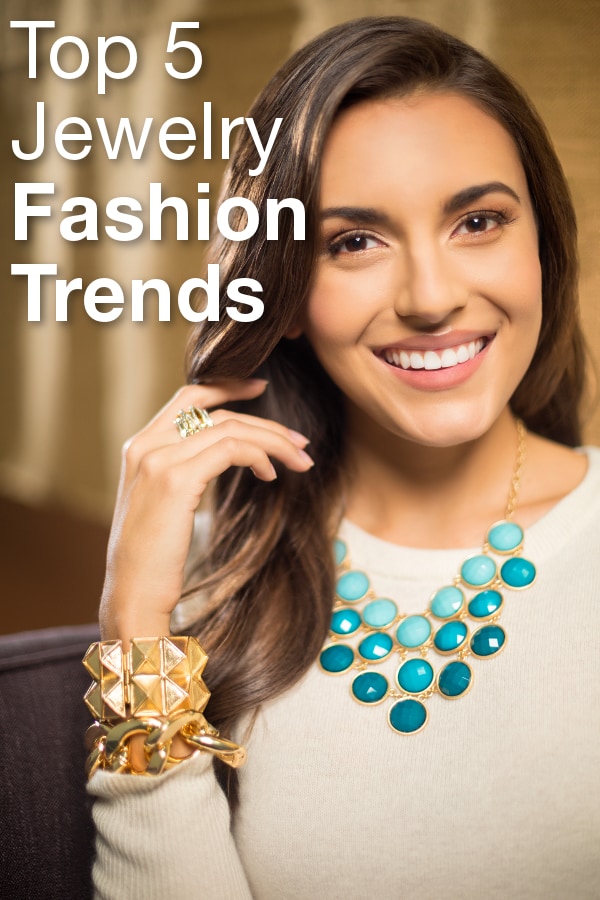 SHOP FASHION JEWELRY NOW >>
Jewelry is one of easiest ways to keep your wardrobe looking fresh. Even if most of your clothes are neutral and your style doesn't change much from year to year, you can still keep up with fashion trends simply by updating your earrings, necklaces, rings, and bracelets. If you want to update your look with fashion jewelry, try one of these hot fashion trends.
Top Fashion Jewelry Trends:

Stacked jewelry: To get this look, simply pile on your favorite jewelry. Try it with an armful of golden bangles mixed with leather bracelets, beaded bracelets, and even a wristwatch. Or try the trend on your hands by shopping for stackable rings. Midi rings sit between your first and middle knuckles, letting you stack rings almost to your fingertips. Finish this look off with a modern manicure.

Chevron and bar necklaces: Some trends feel like fashion dares, but not this one. A basic blouse or little black dress is easy to update with a sweet necklace. It's a delicate look that's just a bit more modern than a plain chain. Instead of a pendant, the chain has either a straight bar or a chevron (a V-shaped bar) at the center. The bar or chevron may be simple metal or it may be decorated with gemstones or crystals. If the look is too sweet for your style, try layering a bar necklace with three or four other necklaces of different lengths to give it a more rock 'n' roll edge.

Yellow gold earrings: This is one trend that comes and goes, but right now, yellow gold is having a moment, and the best way to try the style with earrings. Gold earrings come in many shapes, so you can choose the one that is most flattering for your face and still be on trend.

Sentiment jewelry: Whether it's message to your best friend or your kids, a few sentimental words on your jewelry are tender and trendy. Choose a necklace that spells out the word "love" if your heart desires, or look for a pendant with your initial to personalize your outfits. A ring with engraved words in it makes an excellent gift, too.

Statement necklaces: A bold necklace can make everything from T-shirts to evening gowns more special. Some statement necklaces are very ladylike while others have an edgier look, so this is a trend that anyone can try without sacrificing personal style. Look for bib necklaces with lots of colorful beads and gemstones, multi-chain necklaces with a variety of metals, and brightly colored lucite links.

Shop Fashion Necklaces
Shop Fashion Rings
Shop All Fashion Jewelry
See All Guides
Read More Jewelry Guides
Learn More about Fashion Jewelry
Published April 28, 2010
Updated January 14, 2015