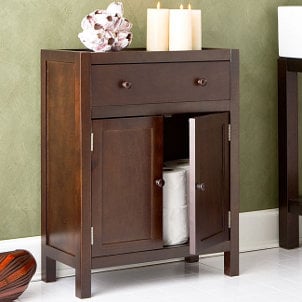 Few things are as frustrating as an ill-stocked bathroom cabinet. When you're in the bathroom, whether to fix your hair or simply brush your teeth, not having an item you need on hand can be maddening. By properly filling your bathroom cabinet, you'll alleviate stress and stay organized. Take advantage of all the extra storage a bathroom cabinet can afford you. Your bathroom will stay clean and tidy when you keep all your bathroom accessories in your bathroom cabinet instead of all over your bathroom vanity. The extra storage will come in handy as you add new items to your bathroom. Keep reading to learn the top five items to store in a bathroom cabinet.
Bathroom Cabinet Storage:

Towels and washcloths: Naturally, towels are a must in any bathroom cabinet. Storing extra towels and washcloths in your bathroom cabinet means they're always available to you and your guests. No one wants to poke their head out of the bathroom and yell for a clean towel. By keeping your bathroom cabinet well stocked with towels and linens you can avoid that scenario and make sure you and your guests always have a way to dry off.

Appliances: Items such as hair dryers, curling irons and flat irons, shoulder massagers and foot baths are all best kept in bathroom cabinets. By storing all these items together you'll always know where they are and can put your hands on them at a moment's notice. You'll be ready for a last-minute date or the party you've been anticipating for weeks.

Toiletries and hygiene: The items you use to wash up and beautify are the staples of bathroom cabinets. A well-stocked cabinet will always include toothpaste, toothbrushes, floss, combs, brushes, face wash, soap and any other items you regularly use to get ready.

Medications and first aid: Medications and first-aid items, like burn creams, band-aids, wraps and cotton balls, should be kept in bathroom cabinets. Find a large bin or basket to keep all these different items in so your cabinet stays tidy.

Cleaning supplies and paper products: If you keep cleaning supplies and paper products in your bathroom cabinet, they'll always be nearby when your bathroom needs tidying up. Give your bathroom vanity a quick wipe down once a week and a deep cleaning once a month to remove water marks and keep mildew at bay. Keep cleaning chemicals and soaps on lower shelves to avoid problems caused by leakage but make sure they're properly locked away from children. Paper products, such as toilet paper and paper towels, are also essential for bathroom cabinets, so don't forget them when you're filling yours.

Buy Bathroom Cabinets
Back to Guides Directory