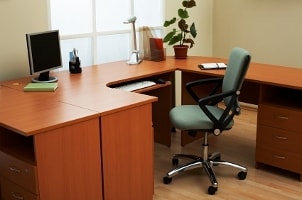 The central feature of any home office is the desk. Which home office desk you choose will probably depend on the space you have available, your surrounding home office furniture and your personal style. To help you sort through your options, review the categories of home office desks you'll run into most often.
Home Office Desk Designs:

Secretary desks: These old-fashioned home office desks are almost more like organizational cabinets than functional desks. The writing surface is typically a hinged wooden panel that folds down from the angled face of the secretary desk. Behind the panel are home office desk compartments for organizing mail, stationary, writing tools and other materials. This style of home office desk is ideal for the small home office or even a large hallway.

Corner desks: Corner desks are made for just that: a home office with a corner workspace. L-shaped home office desks fall into this category as well. Corner desks can be space-saving, compact units or expansive, wraparound home office desks with lots of workspace and varying amounts of storage. Any home office with a panel of windows is a great fit for a corner home office desk.

Writing desks: These more minimalist home office desks are usually simple, open desks with minimal storage and a large desktop. Writing desks are perfect for placing along a wall or out in the middle of your home office floor. With this desk design, a laptop is probably a better choice than a desktop computer for office work. The conservative desk design gives any office an elegant feel.

Computer desks: In the modern home office, computer desks are probably the most practical and ultimately usable of all home office desks. With plenty of space for both your computer tower and your monitor, as well as storage for computer accessories, cables and peripherals, this desk has the room you need to perform tasks efficiently.

Office hutches: For a high-energy home office with lots of storage requirements, an office hutch is probably the ideal choice. These home office desks include a regular desktop with a matching large cabinet and plenty of drawers for holding office supplies, a computer, printer and other office tools. Home office desks in the hutch category will seem bulky in any room smaller than a medium-sized home office.

Buy Desks
Back to Guides Directory