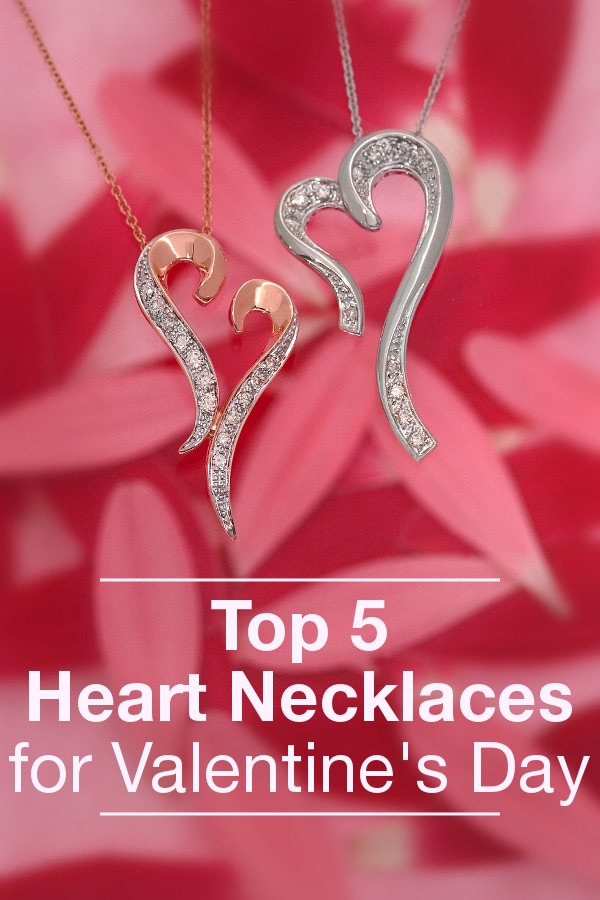 SHOP HEART NECKLACES NOW >>
If you are looking for a Valentine's Day gift for the special woman in your life, consider giving her a heart necklace. It's the perfect gift, one that she will wear over and over, thinking of you each time. Heart pendants can be given on their own or paired with chocolates, flowers, and matching earrings for a romantic gift that will impress any lucky woman.
Heart Necklaces for Valentine's:

Gold: Gold is always a lavish gift with romantic and eternal meanings. Gold heart necklaces are wonderful choices for Valentine's Day gifts. You can choose from a selection of white gold and yellow gold heart necklaces. Gold heart pendants are often embellished with valuable stones and intricate designs. Two-toned gold heart necklaces are a luxurious gift because they combine both white and yellow gold in the same pendant.

Silver: Silver is a beloved metal to most women. Silver jewelry matches almost any fashion ensemble and can be worn casually or formally. Sterling silver jewelry is also available in a wide range of prices. Silver heart necklaces are wonderful Valentine's Day gifts. Choose a dainty silver heart pendant for the lady who likes a simple style or a large and intricate silver heart necklace for the girl who loves to sparkle and shine.

Diamond: When selecting a romantic gift, you can't go wrong with diamonds. Heart necklaces that incorporate these brilliant sparkling stones are incredibly luxurious. You can choose a simple silver heart necklace with one beautiful diamond accent or go big with a large diamond-covered heart-shaped pendant. Heart necklaces with colored diamonds are also great for giving. Heart necklaces are available with diamonds of nearly any hue, including pink, black, yellow, and chocolate.

Lockets: Since Victorian times, lockets have been symbols of romance. Heart-shaped locket pendants are still a wonderful gift choice because they open up to reveal a photo or other memento, making them meaningful. There are lockets made of gold and silver that feature a variety of embellishments and details. There are also unique lockets that open up to reveal spaces for multiple photos.

Unique: If you want to give a heart necklace this Valentine's Day but also want to surprise someone with jewelry that is nontraditional, then you might consider unique heart necklace pendants. Dainty glass pendants, designs that incorporate animals or religious symbols, heart necklaces with peace signs in the center, and necklaces with multiple shiny heart pendants are all unique options. Consider your loved one's personal style when selecting unique heart pendants to find one that will impress.

Shop Heart Necklaces
Shop Valentine's Day Gifts
Find the Perfect Gift in Our Gift Center
See All Guides
Read More Holiday & Giving Guides
Get More Valentine's Day Gift Ideas
Published April 29, 2010
Updated December 31, 2014