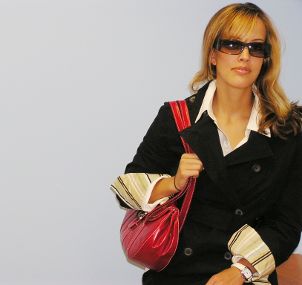 From sassy to sweet, practical to eccentric, it seems there's a handbag for every occasion. The most important handbag to have in your collection, however, is a bag to take to work. There are a few qualities you'll want to look for when choosing a handbag for work; look for a bag that is durable, roomy, stylish and refined. Like your clothing and shoes, you'll want your handbag to be appropriate for the office. The following tips can help you choose the right handbag to take to work.
5 Handbag Styles for the Office:

Oversize tote: With room for everything from your laptop to your lipstick, an oversize tote is a fantastic bag for work. These style handbags feature a structured shape, large interior compartment and open top that make it easy to carry everything you need and access it quickly. While you wouldn't want to carry a large tote to meetings or a business lunch, it's easy to throw in a small clutch to grab and take with you.

Satchel: A satchel is a hand-held, structured handbag. While not as big as other handbags, a satchel is ideal if you don't need to carry a laptop, documents or files to and from work with you. It's the perfect size for all your personal items, and the structured design holds up well to daily use.

Hobo: Much like an oversize tote, a hobo bag has plenty of space, but without the structured shape. Hobo bags usually have a zipper or magnetic snap, making sure the contents of your handbag don't accidentally spill on your way to work. The telltale crescent shape of a hobo bag gives it a slouchy look that, while fashionable, may not be the best for carrying documents. The slouchy design does, however, hide the contents of your bag well, so go ahead and stock it full.

Cross-body/messenger bag: If you're carrying a laptop, files, books and other heavy items to and from work, you'll want your bag to be both sturdy and comfortable. A cross-body bag distributes the weight across your body, making it easier to carry around. Most cross-body and messenger bags have adjustable straps so you can customize one to your needs.

Briefcase style: The ultimate handbag for work is a briefcase-style bag. Meshing classic office style with the modern handbag, briefcase handbags have the basic structure of a briefcase without all the bulk. These feminine business bags have interiors built for carrying documents, files and laptops, as well as everything from lotions to lipstick.

Buy Handbags
Back to Guides Directory