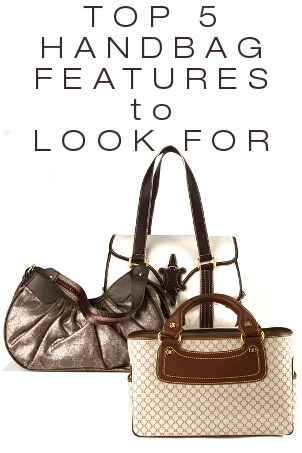 It may be love at first sight when you spot a cute handbag, but if you find that you just don't like using it, that affection can turn sour. You can avoid buying a purse that is doomed to sit unused on a shelf if you think about the features that you really want and make sure the bag you like the look of has all those features. If you do that each time you shop, then you'll end up with a wardrobe of handbags that you'll want to keep using for years.
Important Handbag Features:

Closures: Think about the type of closures you would prefer as you are shopping for handbags. Do you need the security of a zipper or would you like the convenience of an open top? Would snaps be a bother or are they just the right amount of closure? Do you prefer a flap with a magnet or would a drawstring work better? Be sure to read the description of the closure and make sure it's one you'll like using.

Materials: From leather to satin, the materials available are seemingly endless. Evening bags work well in fine fabrics, but your everyday handbag should be made out of a more durable material. If you plan on using your new purse often, be sure to notice if the fabric can handle the use. Bags made of leather, canvas, or even a sturdy PVC material are especially durable.

Size: If a bag is larger than you are comfortable with or if it is too small to carry what you want, you may end up disappointed in your purchase. Pay attention to the size in the product description; if you have a hard time picturing what the numbers will mean in real life, get out a measuring tape and find something in your home that has similar dimensions, like a throw pillow, so you can better visualize what the bag will be like when it's delivered. Stand in front of a mirror with the throw pillow under your arm to visualize what the bag will look like when you're carrying it.

Shape: Remember to consider the shape of your handbag. You need to like how it fits under your arm or how it hangs off your shoulder. Do you like to carry a north-south handbag (one that is tall and narrow) or an east-west handbag (one that is wide and short)? Do you need a bag for a formal event, like a clutch with straight lines, or are you searching for a casual bag with a slouchy shape, like a hobo bag?

Storage: The storage compartments in your bag will affect its functionality. Do you want easy access to your cell phone or a clip for your keys? Do you prefer interior pockets or exterior pockets? Be sure to read the descriptions as you are shopping online, so you'll love every detail when your handbag arrives.
What Do You Want to Do Next?

Shop Crossbody & Mini Bags Bags
Shop Tote Bags
Shop Hobo Bags
Shop All Handbags
See All Guides
Read More Clothing and Shoes Guides
Learn More about Handbags