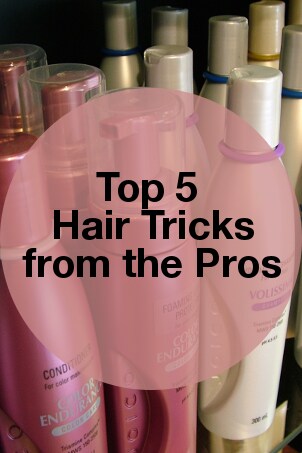 Who doesn't want luxurious, healthy hair? Whether your natural hair texture is fine, thick, curly or straight, you can get the hairstyle you want with a little direction from the pros. Add these top tricks and tips to your daily routine and you may just find yourself with fewer bad hair days.
Best Pro Styling Tips:

The right products: You'll get the best results if you use the right styling products for your hair. For example, if you have fine hair, look for volumizing mousse or spray that creates lift without weighing your hair down. Curly hair needs moisture, and a moisturizing styling cream can help tame frizz and fly-aways. Pay attention to your hair type, and shop for products designed for your specific type of hair to get exactly what your hair needs.

How you dry: Some of the biggest styling mistakes people make happen when drying their hair. If you blow-dry your hair, always squeeze excess water out of your hair with a towel and let it air-dry for 5 to 10 minutes before you start the dryer. This will cut down on your blow-drying time and prevent damage. Use a low heat-setting on your hair dryer and blow dry with a round or paddle brush. Use thermal protection spray to seal in shine.

Best styling tools: The best curling irons and flat irons have ceramic barrels or plates. Ceramic plates heat evenly to prevent damage and actually smooth hair as they style. Always use a heat-protection spray and style your hair by section. This will give you more control, which in turn means you won't have to over-style and expose your hair to too much heat. Good styling tools should smooth your hair and reduce static all day long.

Your brushes and combs: On damp hair, a wide-tooth comb is always best. It won't pull or break your wet hair, which is most vulnerable when it is damp. Synthetic materials create static, which causes fly-aways and dry hair, so choose combs and brushes made of natural materials. Boar-bristle brushes are gentle on hair and help evenly distribute hair's natural oils, which makes your locks both healthy and shiny.

Tips on shampooing: Everyone loves clean hair, but over-shampooing can cause dryness that, in turn, causes an over-production of oils. To keep your hair healthy and balanced, cut back to shampooing every other day or less. For dry or curly hair, use a moisturizing shampoo and deep condition once a week. If you have oily hair, keep it fresh between shampooing with a dry shampoo, or lightly spray the top layer of your hair with water and blow dry it to distribute oil away from your scalp.
What Do You Want to Do Next?

Shop Styling Products
Shop Hair Dryers
Shop All Hair Care
See All Guides
Read More Health & Beauty Guides
Learn More about Personal Care & Beauty