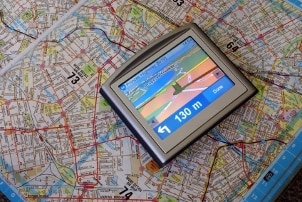 Now that you have a GPS to nudge you in the right direction, there's no need to drive around in circles or get lost in the woods. And once you learn to use your GPS, you can start looking at GPS accessories that can help you get the most out of your device. GPS accessories can enable functions of your GPS that you couldn't use previously. And certain GPS accessories, like hands-free mounts and text-to-speech audio cables, can even enhance the safety of using your GPS while driving. Here are the top five GPS accessories to help make using your GPS easier and more convenient.
Top 5 GPS Accessories:

GPS carrying cases. If you're using a handheld GPS, a padded or hard-shell GPS carrying case can protect it from falls. You can find GPS carrying cases in plastic, rubber, neoprene and other durable materials. GPS carrying cases are great because they can hold and organize other GPS accessories.

GPS mounts. Certain GPS accessories, like GPS mounts, are really safety necessities. Attaching your GPS unit to the dash leaves your hands free to drive. GPS mounts can attach to air vents, your dashboard or even your windshield. If you don't want a GPS mount to physically connect to your vehicle, just use a no-slip, weighted, friction GPS mount that sits on your vehicle dash.

GPS screen protectors. The LCD screen on your GPS is vulnerable to dings and scratches. Shield it from damage with a clear GPS screen protector. Screen protectors can also reduce glare.

GPS adapters. Instead of replacing batteries or plugging your GPS into an outlet, use a GPS adapter to plug into your car's cigarette lighter. These must-have GPS accessories will save you money on batteries and time charging your GPS.

GPS map update plans. Map updates are GPS accessories that can easily be overlooked. Streets and highways are constantly under construction, and your GPS will need periodic updates to stay current. You can purchase GPS updates from the manufacturer or you can purchase GPS update cards that can be good for several years or even a lifetime subscription.

Buy GPS Accessories
Back to Guides Directory