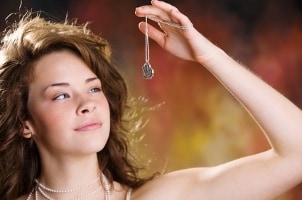 Lockets were very popular during the Victorian era, and locket necklaces are one of our most enduring jewelry traditions. A locket is a pendant or charm that opens on a hinge to reveal a photo or a spot to keep mementos. Some historians speculate that the phrase "locket" comes from the tradition of storing a lock of someone's hair inside the jewelry; this practice was common during Victorian times, and locket jewelry was sometimes given at funerals specifically for this purpose. Today, you can choose from a variety of gold locket styles. Whether you are looking to purchase a locket necklace as a very sentimental gift or you want to add a gold locket to your gold necklace collection, we can help you choose the perfect style.
Timeless Gold Locket Styles:

Glittery: Locket jewelry is often made of gold because it is durable enough to last a lifetime and the beauty honors the memories and photos associated with the particular gold necklace. You can take beauty to the next level with a gold locket that is embellished with diamonds and other gemstones. Choose from lockets with small and subtle diamond accents and locket necklaces with extravagant gemstone details.

Etched: Gold jewelry is easily etched with patterns and designs to enhance its appearance. Gold lockets with intricate etching add texture to your look. Gold lockets may feature floral patterns, geometric designs, meaningful phrases or religious symbols. Consider surprising your mom with a Mother's Day locket this year. Lockets with "mom" or "mother" engraved on the front are the perfect choice.

Square: The classic locket features a traditional heart or oval shape, but square lockets are more modern and unique. A square locket is also the perfect shape for displaying a photo. Square gold lockets with engraved details, pretty gemstones and romantic scrolling enhance any casual or dressy ensemble.

Oversized: Though petite lockets are common, large lockets are really fun and dramatic. Large lockets are available in almost any shape and design, and gold lockets easily display multiple photos or pictures of large groups. Hang an extra-large gold locket from your favorite long gold chain to accessorize a well-cut business suit or sexy green dress.

Charms: Petite gold locket charms are the perfect addition to any charm bracelet or handbag zip pull. Tiny gold charms are whimsical and can be found in yellow gold or white gold. Miniature gold lockets are perfect for holding a tiny sprinkling of sand from your favorite beach or any other little memento.

Buy Lockets
Back to Guides Directory