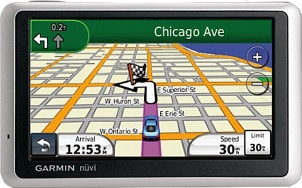 With the right information at your fingertips, traveling is easy. Garmin is at the forefront of creating easy-to-use devices that bring data together to help you avoid traffic, improve your fuel-efficiency and show you the best routes to get where you're going. Below are five of the top Garmin GPS navigation features you'll find on some of Garmin's latest GPS systems.
Best Garmin Features:

Traffic data: A route plotted by your GPS system is no good if it takes you right through a traffic jam in the middle of rush hour. Garmin addresses this problem by feeding your GPS live traffic updates and offering you alternate routes to get you around the traffic and on your way. Garmin GPS systems can also offer traffic history for your routes, including average speeds and peak drive times.

Spoken directions: Garmin GPS lets you keep your eyes on the road with detailed spoken directions. Spoken directions let GPS navigation give you turn-by-turn instructions and lane changes. In addition to lane visualizations and quick 3D map representations, spoken directions help you spend less time deciphering your GPS and more time focused on where you're heading.

Hands-free everything: In addition to spoken directions, Garmin has designed many of their GPS navigators with hands-free controls and navigation features in mind, like Bluetooth connectivity for your hands-free headset and voice-activated commands. Some Garmin GPS models have enabled hands-free calling features and Internet-navigation options.

Programmable and adaptable routes: As with other GPS systems, Garmin models allow you to program in custom routes, but Garmin GPS also gives you access to lists of favorite locations, suggests new routes and automatically evaluates trip data, like arrival times and fuel-efficiency. Some Garmin navigation systems will even suggest the most fuel-efficient route to help you get there with fewer fill-ups.

Internet connectivity: Now you can find addresses, phone numbers and even Websites of businesses and other locations through Garmin GPS systems. Browse the Web for relevant sites, and then save them to your Garmin favorites list. From there, voice-navigation makes it simple to find your destination.

Buy Garmin GPS Navigation
Back to Guides Directory