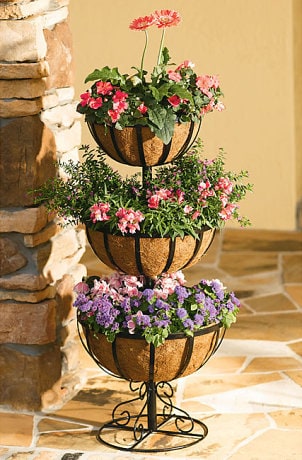 If you're looking for a way to make your home stand out or just a way to show some spirit, then decorative garden accents are for you. Garden accents add personality to any yard, garden or deck and can be as simple as a wind chime or as unique as a garden gnome. For a truly classical garden, think Greek goddess garden statues; for classic Americana kitsch, think pink plastic flamingos. Garden art features a boundless sense of style, so your home can truly reflect your personal style.
Popular Garden Accents:

Accents and art: These are the little pieces that complete the garden design. Copper contrasts vividly with a green garden and is featured in a variety of outdoor art. Rain gauges, weather vanes, wall art and hanging lanterns can all complement a lush garden. For more color, choose sun catchers that shine like stained glass or bright flowers and animals that spin when they catch the breeze. Some of these garden accents do double duty as solar lights, adding a colorful glow to the night.

Wind chimes: The sweet song of wind chimes carried on the breeze defines a comfortable summer day. Often unseen, wind chimes remind us that there is a well-tended home nearby. Fortunately, wind chimes can be as beautiful as they are melodic and can be made of brass, steel, wood, bamboo, even painted gourds. Choose steel wind chimes for higher tones and wood or bamboo for softer, lower tones.

Statuary: Use garden statues to create focal points in the garden. A light-colored stone or ceramic statue balances the dark green of a shaded grove, and bronze deer or rabbits enliven the front lawn. Folk art bowls or figurines will look wonderful on the patio. Remember, birdbaths and outdoor fountains also function as attractive statuary.

Outdoor fireplaces: Most outdoor fireplaces are basically portable fire pits; picture a large bowl set on sturdy legs. A patio fireplace can extend your outdoor entertaining season by keeping guests warm even after the weather turns cool. Enjoy an evening under the stars toasting marshmallows or reveling in the company of your friends. Outdoor fireplaces burn wood or charcoal, and some feature grilling grates so you can make snacks while you hang out. The average outdoor fireplace includes a spark-arrestor screen in the lid -- an important safety feature. If you prefer a more structured look, consider a patio table with a built-in fire pit.

Grills: Outdoor grill enthusiasts are split into two camps: charcoal and gas. Charcoal produces a unique flavor while gas provides a consistent, reliable heat. Outdoor gas grills use propane or natural gas as their fuel, but charcoal grills burn briquettes. If you don't already have a natural gas line on your deck and you don't plan to install one, then choose an outdoor grill that uses propane or charcoal. Today's outdoor grills offer great features, including rotisseries, smokers and bun warmers so you can take outdoor cooking to a whole new level.

Buy Garden Accents
Back to Guides Directory