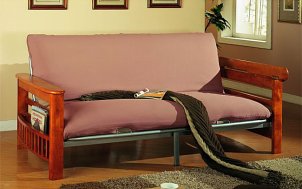 Furnishing your guest bedroom with a futon can help you save space while providing guests with a comfortable and relaxing sleeping area. Futons can be a versatile, inexpensive option for the guest bedroom, and you can choose from a variety of different futon styles that match your home's decor. Whether you're accommodating a single guest or a small family, a futon provides plenty of comfort for both short-term and extended stays. This article should help acquaint you with the top 5 futon styles for guest bedrooms.
The Top 5:

Metal: Metal futon frames are typically lightweight and easy to move, which means they will be easier for you to move around to accommodate your guest. This futon style is available as a chair or couch and can be complemented with a twin-, full- or queen-size mattress.

Loveseat: The loveseat futon frame is designed with a two-piece futon mattress and can be converted from a loveseat to a twin- or full-size bed. This is most suitable for guestrooms that are limited on space. Loveseat futons can be decorated with pillows and throws.

Wood: Wooden futon frames are available in standard bi-fold, A-frame or hybrid designs. This style of futon can be a good match for larger guest rooms, and it may accommodate two adult guests or two adult guests and a child in a queen-size or king-size mattress.

Wicker: If your guest room is designed in a traditional country style, wicker or rattan futon frames may be the best fit. These futons add a charming touch with their simple design and can be decorated with oversized throw pillows. Since these frames are also relatively lightweight, they are easy to move around when you're expecting larger groups of guests.

Hand-carved: When you are decorating a guestroom with luxury furnishings and international decor, a hand-carved futon frame may be the best match. These types of frames are typically made with solid woods from Indonesia, Bali and other exotic destinations and are extremely durable. Hand-carved futons may be designed with grid-style seats made of black steel alloy to provide extra support.

View All Futons
Back to Guides Directory