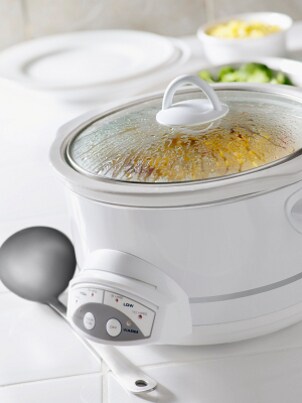 A slow cooker saves effort in the kitchen while giving you juicy, flavorful dishes. Slow cooking has been around for decades, but some people have still never tried it because it is an unfamiliar food preparation method. The best part about slow cooking is that you can come home to dinner if you time it right and choose the most convenient dishes. Put your slow cooker to work and try some of these popular recipes.
Slow Cooker Recipes:

A whole chicken: If you've never cooked a whole chicken before but want to try it in order to save money and savor authentic flavors, then prepare one in a slow cooker. You can add the chicken frozen or defrosted and cook with a pre-made marinade or create your own flavor concoction. Try combining olive oil, balsamic vinegar, and minced garlic for juicy meat with an Italian flavor. Once the chicken is cooked, you can remove the bones, skin, and fat, and then add the meat to salads, sandwiches, and tacos.

Soup: Come home to a warm pot of soup on a cold winter day. Most soups, stews, and chilies can be cooked in a slow cooker. Always brown ground meat first and add dumplings and noodles at the very end, so they don't get too soft. Pureed soups are especially easy to make in a slow cooker. Cook potatoes, carrots, onions, and other root vegetables in broth and spices, and then blend with an immersion blender right in the pot. Add cream, cheese cubes, or fresh herbs for more flavor.

Pork: If you love pork burritos, sandwiches, and salads, then try cooking pork roasts in a slow cooker. You can cook pork all day long and experiment with mesquite and barbeque marinades. Once cooked, shred the pork and make a reduction with the drippings or use the juices to add flavor to collard greens or mashed potatoes.

Cobbler: Many slow-cooker dessert recipes are available, but cobblers are among the easiest desserts to cook slowly. Apple cobbler can be made with raw apples in the slow cooker, so it's quick and easy. Cobblers can also be cooked overnight, providing you with a fabulous breakfast on a cold morning.

Cheese dip: Cook and serve your cheese dip straight from a slow cooker to ensure that it's warm and smooth throughout the evening. A variety of dips can be made in a slow cooker. Try mixing processed cheese with beans and bacon. Or create a gourmet dip with Swiss cheese, white wine, and lemon zest. Serve with artisan bread, crackers, vegetables, chips, and pretzels for a versatile, crowd-pleasing appetizer or entree.
What Do You Want to Do Next?

Shop Slow Cookers
Shop Slow Cooker Cookbooks
Shop All Small Appliances
See All Guides
Read More Kitchen & Dining Guides
Learn More about Small Appliances