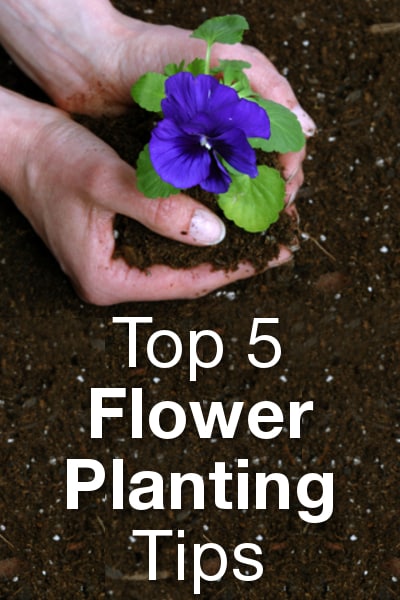 SHOP GARDENING SUPPLIES NOW >>
Planting a flower garden certainly makes your yard more beautiful, but it can also be an enjoyable way to pass a warm afternoon. If you're considering starting a flower garden, there are a few things you'll want to keep in mind. Before you haul out the shovel and gardening gloves, read these gardening tips.
Flower Planting Tips:

Know the blooming period: Not all flowers bloom at the same time. While some varieties arrive in the spring, others bloom through the summer and even into the fall. If you want to enjoy your garden throughout the seasons, consider planting a mixture of flowers with different blooming periods. As the flowers alternate blossoming, your flower bed will always have something in bloom.

Choose between perennials and annuals: There are two types of flowers: those that return year after year and those that bloom for one year only. If you prefer low-maintenance gardening, planting perennials that return year after year may be best for you. If you don't mind replanting each year, mix some beautiful annuals into your garden. Planting annuals is also a great way to fill out your flower bed while waiting for new perennials to grow and populate.

Plant native: Wherever you live, there are certain varieties of flowers and plants that are native to your climate. Native plants typically require less care than other plants and can help boost the ecosystem of your flower garden. They are naturally resistant to pests and other ailments, requiring you to use fewer chemicals, which in turn benefits your garden and local wildlife.

Be aware of shade and sun: Pay attention to whether your flowers need sun, shade, or partial shade. This will determine where in your garden you should plant them. A good mix of shade and sun plants will keep your garden in full bloom, and will provide more diversity in your flower beds. Shade plants thrive under trees and in the shade of buildings, and full-sun flowers are the perfect plants for patio planters.

Consider xeriscaping: In drier climates, the flowers in your garden will need a lot of water. This can be hard to keep up with, expensive, and hard on the environment. Xeriscaping is a popular alternative where native plants and rocks are combined in the landscape design instead of flowers and plants that need more water to grow. These low-water landscapes often thrive off of rain water alone and, with planning and patience, can be just as beautiful as traditional flower gardens.

Shop Gardening Tools
Shop Garden Seeds
Shop All Gardening
See All Guides
Read More Garden & Patio Guides
Learn More about Yard Care
Published October 11, 2011
Updated April 6, 2015