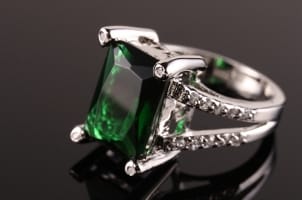 The emerald is fabled and beloved for its gorgeous green hues. Emeralds are precious gemstones, and a variety of the mineral beryl. Emerald jewelry is valuable, and emeralds add color to any gemstone ring collection. Whether you want to celebrate your May birthday with this lovely birthstone gem or you want to make a proposal to your girlfriend that she'll never forget, emerald rings are the perfect solution. You have many emerald ring styles to choose from; use our tips to select beautiful emerald jewelry for yourself or someone you love.
Our Favorite Emerald Ring Styles:

An emerald's best friend: Diamonds add beauty to almost any piece of jewelry, and gemstone rings are no exception. A diamond and emerald ring is the epitome of luxury. Choose from solitaire emerald rings with a smattering of accent diamonds and emerald and diamond jewelry with artistic cluster settings.

Double emerald: The emerald is not only known for being a beautiful gem; emerald-cut stones are distinct and famous for their art-deco appeal. An emerald-cut emerald is the perfect gemstone for any ring. The clean lines of an emerald-cut gem combine perfectly with the deep green hues of this stunning stone. A solitaire setting will show off your emerald-cut emerald dramatically.

Emeralds from the past: Like many gemstones, emeralds were very popular in ancient Egypt. Legend even states that the emerald was Cleopatra's favorite gem. Though the emerald rings you shop for today may not date back to these fabled times, you can own antique emerald rings in a variety of styles. Vintage emerald rings and vintage-inspired emerald jewelry is also a fun addition to any jewelry collection.

Emerald engagement: Diamonds are not the only acceptable engagement ring gemstone anymore. Rubies, sapphires, pearls and emeralds are all great options for a unique engagement ring or wedding band. If your girlfriend has a May birthday, consider surprising her with a solitaire emerald ring on a warm summer evening. Nature lovers will also appreciate beautiful emerald engagement rings.

Symbolic emeralds: Emeralds have a strong history of legend and lore, which makes them the perfect choice for symbolic jewelry. Claddagh rings symbolize friendship, love and loyalty with their hands, heart and crown design. The Claddagh ring is also an Irish design, having originated in the town of Claddagh, Ireland. Claddagh rings that are embellished with emeralds bring Irish culture and legend to your wardrobe. Other symbolic designs featuring Celtic knots, eternity bands and religious symbols are also perfect with emerald embellishments.

Buy Emerald Rings
Back to Guides Directory