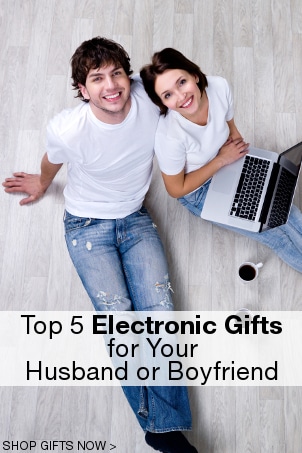 Have you have noticed that every time you and your significant other visit a store, he drifts toward the electronics? If so, you know all you need to know when you're searching for gifts for him. The electronics store has the perfect gift to match any guy's interests. If you need help narrowing down your choices, consider this list of the most popular electronics gift ideas.
Electronic Gifts for Men:

MP3 player: Does his life have a soundtrack? Give him the gift of music with an MP3 player. This is a popular gift idea because MP3 players have made music, movies, and TV portable. Most players have enough memory to carry hours of music and video in his pocket. Additional features are being added to these portable electronics all the time, allowing you to check email, access the internet, and even download games or other applications. It's a gift he'll use every day.

Blu-ray player: Blu-ray players are the next generation in high-definition digital entertainment. Blu-ray discs provide the highest possible video resolution and sound quality for his movies. Blu-ray also enables additional features and interactivity not available on any other technology. A Blu-ray player is the perfect electronic gift idea for any movie buff.

Smartphone: A smart phone is a great gift idea for guys who need multiple functions in their mobile device. Smart phones typically feature multiple applications like Bluetooth and wireless internet connectivity, a camera, an integrated FM tuner, mobile TV support, GPS capability, and more. It's basically a mini-computer with most of the power and features of a regular computer. You'll need to make sure that any smart phone you select will work on the gift recipient's wireless phone network. Most phones are exclusive to one network or another.

Home theater system: Any man who loves entertainment will tell you that he doesn't just want to hear his music, movies, and video games -- he wants to feel them. A home theater system is a gift idea that can complete the complete entertainment experience. Typical systems will include surround sound speakers, a receiver, a DVD or Blu-ray player, and a subwoofer. This is a gift idea that will add a whole new dimension to his entertainment command center.

GPS: He's a man, not an atlas, and chances are that he's not the "ask for directions" type. With a GPS device, he won't have to. GPS technology has reached new heights, using satellite positioning systems to provide directions, maps, and even lists of nearby businesses and gas stations. A GPS is a great gift idea for the car. If he likes to spend outdoors, he'd love a handheld device that he can pack into the backcountry. Give him the gift of not getting lost, and maybe you'll actually be on time to your next dinner party.

Shop Audio & Video
Shop All Electronics
Find the Perfect Present in Our Gift Center
See All Guides
Read More Electronics Guides
Learn More about Electronic Gifts