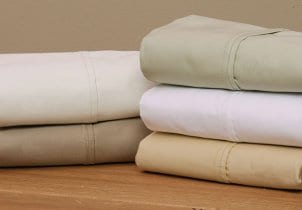 There are all kinds of ways to add comfort to a bed, but few do the job like Egyptian cotton bedding. Thanks to the climate conditions of Egypt, Egyptian cotton has extra long staples that allow for the creation of ultra soft, luxurious bedding. Egyptian cotton is used to make an enormous assortment of bedding products, so no matter what element of your bed you want to add comfort to, it's possible with this terrific type of fabric. If you're interested in finding out more, take a look at the article below to learn the top 5 Egyptian cotton bedding products.
The Top 5:

Sheets: Sheets are quite possibly the most popular type of Egyptian cotton bedding products. People love Egyptian cotton sheets for a variety of reasons. One of the most treasured characteristics of Egyptian cotton sheets is their soft nature. These comfortable sheets are also extremely durable; they will stand up to countless washes.

Pillowcases: If you have Egyptian cotton sheets, another element of Egyptian cotton bedding you should consider is pillowcases. Egyptian cotton pillowcases provide all the comfort of Egyptian cotton sheets while helping you add style to your pillows. The durability of Egyptian cotton is fantastic for pillows, as it will allow you to wash your pillowcases often to keep them fresh.

Duvet covers: Sheets and pillowcases aren't the only types of Egyptian cotton bedding. Duvet covers are also a popular choice for those looking to increase comfort using Egyptian cotton. If you're looking for a new cover for your duvet, think Egyptian cotton. You'll be surprised by both its style and durability.

Bedspreads: Bedspreads are an excellent way to add Egyptian cotton to a bed. Quilts, comforters and more are made with Egyptian cotton, so it's easy to find Egyptian cotton bedspreads that will fit your comfort and design needs.

Crib sets: Want to spoil your little one? Think about Egyptian cotton crib sets. The softness of Egyptian cotton is the perfect way to add comfort to your baby's bed. Egyptian cotton crib sets are produced in a wide range of vibrant, fun colors, so finding something cute for your baby won't be difficult.

Buy Egyptian Cotton Bedding
Back to Guides Directory