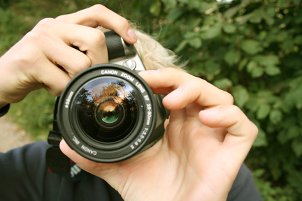 Digital cameras have changed the face of modern photography. If you have switched your photography over to digital, you may be looking for some photo accessories to take your photos to the next level. Many products are available to make taking pictures with your digital camera easier and more professional. Whether you're looking for lenses, filters or other digital camera accessories, you're sure to find some ideas with these top five digital camera accessories.
Digital Camera Accessories:

Camera batteries and memory cards. These are the basic digital camera accessories. You may want a spare digital camera battery, just in case. Extra storage is never a bad idea either. If you have a high resolution digital camera, having several large memory cards to hold your photos is a good move. Before you look at anything else, make sure you have these two camera accessories checked off your list.

Lenses and flashes. When you are looking for more control of the photos you take, these camera accessories will give it to you. With practice, a good lens can produce sharper and more stunning photos than a point and shoot digital camera. Good flashes are camera accessories that make sure that you're never sabotaged by bad lighting.

Camera bags and tripods. You'll definitely want to protect your investment by adding a carrying case or camera bag to carry camera accessories, like lenses and tripods. You may want to avoid a substitute bag without good padding or enough storage. Using a tripod can ensure you have a steady hand when taking critical shots, and it's safer to use your digital camera when it's secure on a tripod. These camera accessories will make sure you can easily get at what you need and let you focus on the photos.

Photo filters. Filters can add mood and intensity to your photos, and they protect your lens from scratches. Filters can be made from glass or plastic in a variety of colors. This is a basic necessity among camera accessories.

Photo printer. Because they're digital, you can edit, crop and print your own photos. A good photo printer should print with a high dots-per-inch (dpi) rating. With more dots, you get a higher resolution picture with higher detail. A good photo printer is among the most critical camera accessories. Even if you took great photos, a bad printer can fail to show the quality and detail of what your digital camera is capable of.

Buy Photo Accessories
Back to Guides Directory