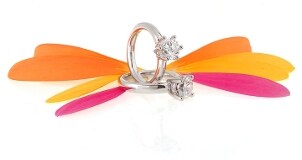 Getting engaged and planning a wedding will be one of the most memorable experiences in your life. Whether you are choosing an engagement ring for your girlfriend, selecting a ring for yourself or picking diamond engagement jewelry out together as a couple, you'll encounter many ring styles in the process. In addition to choosing between yellow gold, white gold and platinum bands, you will also have to select the diamond shape, ring setting and accent stones of your choice. Take a look our favorite diamond engagement rings to help you find the right one for popping the question.
Our Favorite Diamond Engagement Rings:

Solitaire: This ring style showcases one beautiful stone in a simple design. A solitaire diamond engagement ring often incorporates a prong setting, which allows plenty of light to pass through the stone, making it sparkle brilliantly. Solitaire diamond engagement rings usually feature a round-brilliant diamond or a princess-cut diamond.

Cluster: Cluster diamond rings sparkle and shine with every movement because they have multiple diamonds set in one band. Cluster rings are available in many styles and shapes: some mimic solitaire rings with a smattering of diamonds imitating a large solitaire stone; other cluster settings may be artistically sculpted into floral patterns.

Distinctive band: Although the diamonds and gemstones are an important part of the design, the band is often what makes a ring different. You can choose from a variety of unconventional bands when shopping for engagement rings. Consider geometric bands with points, asymmetrical swirling patterns and designs incorporating several different shapes. Many bands also feature engraving and hand-sculpted scrolling and filigree patterns.

Colored diamonds: If you want an unconventional engagement ring but you have your heart set on a diamond, then consider colored diamonds. Engagement rings with yellow, pink, blue, green, brown or black diamonds are unusual and traditional at the same time. These rings can be found in almost any style.

Tension: Tension settings are becoming a very popular engagement ring choice. Tension settings grip the stone on both sides, highlighting the diamond you choose. Rings with a tension setting tend to have simple bands that show off the diamond.

Buy Engagement Rings
Back to Guides Directory