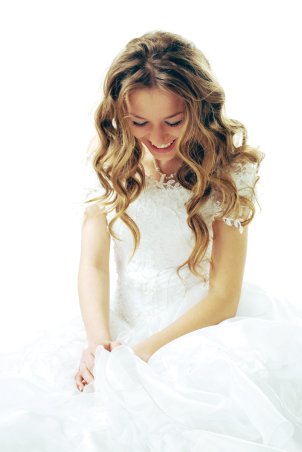 Whether you're the bride, the groom, or an invited guest, you'll want to look your best on the big day. To find the right clothes, focus on the time of day the event is taking place to help you narrow down your choices. You'll want to dress differently for a daytime affair than you would for a traditional evening wedding, and the following tips about the top daytime wedding looks can help you choose the perfect outfit for the event.
Daytime Wedding Looks:

Lightweight wears: The weather is bound to be warmer at a daytime event, no matter the season, and your wardrobe choices should reflect that. Choose lighter weight fabrics in light colors to combat daytime heat. In addition, lighter fabrics keep your look simple and fresh when dark, heavy materials would be overwhelming. A linen suit is perfect for men, while silk, crepe, and sheer fabrics are an airy choice for dresses.

Formal affairs: Daytime weddings are typically more casual than evening events; this doesn't mean you can't dress up for a midday event, however. Traditional formal attire includes a morning coat for men and a tea-length dress for women. You can play on the theme by choosing a light-colored suit and fresh sheath dress for the event. Keep your look appropriate for the daytime by avoiding dark suits, cocktail dresses, and long gowns more suited for the evening.

Casually collected: Many daytime weddings are casual affairs, and this trend is becoming more and more popular. For a wedding at a local park or a backyard barbecue, a more casual wardrobe is appropriate. Make sure you don't get too casual with your look, however. Focus on classics, like khaki slacks and button-down shirts for men and simple sundresses for women. Keep your casual look light, fun, and comfortable.

Summery sophistication: Many daytime weddings happen in the summer when the weather is perfect for holding ceremonies and celebrations outside. During the summer months, bright colors and florals are the perfect style. Whether you're donning a fresh floral-print sundress or outfitting the groomsmen in vibrant neckties, these summery fashion choices add color to any wedding. Incorporate bright solids into your look with a few accessories or wear a striped or floral dress in a fun, fresh hue.

Daytime destination: A faraway destination gives you the chance to do something different and chic with your wedding, including your daytime wedding fashion. For a sunny celebration on the beach, lightweight materials and bright, beachy colors are comfortable and fitting. Incorporate a touch of the local culture into your look with some interesting jewelry or traditional patterns. Make sure you look your best at a daytime destination wedding and choose clothes that pack easily without wrinkling.

Buy Clothing and Shoes
Back to Guides Directory