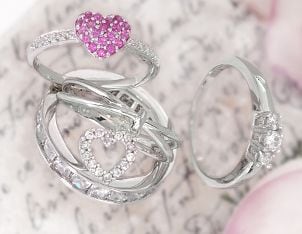 Owning even just one shiny, glittering ring gives you a whole new world of style options. Sparkly rings are essential when you are dressing up for a party, but they look just as fabulous with your favorite pair of worn jeans. You don't have to splurge on diamonds to add shimmery jewelry to your collection. Cubic zirconia rings can be just as lovely as rings embellished with more expensive gemstones. Cubic zirconias look just like diamonds when viewed with the naked eye, but they are grown in a lab. This makes cubic zirconia rings much more affordable than other types of gemstone jewelry. A wide selection of cubic zirconia jewelry awaits you at Overstock.com. Allow us to narrow down the choices with a few of our favorite pieces of fashion jewelry.
Must-have Cubic Zirconia Rings:

Cocktail rings: The most popular fashion jewelry item of the moment is the cocktail ring. Cocktail rings are big and bold, often incorporating expensive gemstones. Cubic zirconias make this piece of jewelry much more affordable. You can collect cubic zirconia cocktail rings in a variety of colors and styles to wear every day of the week. Many pieces of cubic zirconia jewelry also feature vintage styling, and cocktail rings are no exception.

Colorful rings: When you're shopping for gemstone jewelry, you may be looking for a bold splash of color. Cubic zirconia rings fit the bill with stones in every possible hue. Oxides are applied to cubic zirconias to give the gems brilliant red, blue, green, yellow, pink, orange and purple shades. This allows cubic zirconias to stand in for emeralds, rubies, garnets, sapphires, amethysts, aquamarines and all of your favorite gems. Brightly colored cubic zirconia rings really let your personality shine.

Engagement rings: Cubic zirconias are becoming a very popular option for engagement rings and other wedding jewelry. Many couples find that cubic zirconia rings offer the same great look as diamond rings, but that they save them enough money to have the band they really want at their wedding reception. Cubic zirconia engagement rings will last a lifetime, but the stones can be replaced with more valuable gemstones in the future if desired.

Bands: When it comes to rings, bands may be the simplest pieces to wear. Cubic zirconia bands add a subtle touch of sparkle to an outfit without being too flashy. Bands can be worn daily and they look good with other pieces of jewelry.

Cubic zirconia plus gemstones rings: Even though you are shopping for fashion rings on a budget, you don't have to completely rule out owning an authentic gemstone. Many affordable cubic zirconia rings incorporate other gemstones into the design. Peridots, pearls and topaz are all beautiful and budget-friendly gems. Look for cubic zirconia rings that showcase a variety of gemstones.

Buy Cubic Zirconia Rings
Back to Guides Directory