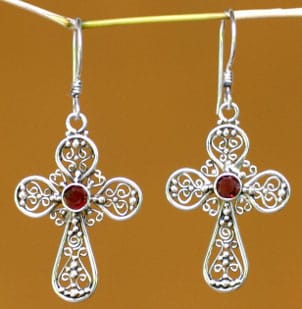 If you are looking for an interesting way to display your religion, consider cross earrings. Earrings featuring a cross design are unique; a variety of cross earrings in your collection will allow you to express your beliefs regularly and with style. Cross jewelry is available in many varieties, and cross earrings are no exception. To help you choose religious jewelry and religious earrings that will fit into your wardrobe, we have compiled a list of our top five favorite earrings sporting this simple and elegant design.
Cross Earring Styles to Collect:

Stud: Understated cross jewelry is often the most appropriate choice for many events, and many people prefer subtle religious jewelry for daily wear. Stud earrings are very easy to wear and complement dressy outfits and casual ensembles equally. Consider religious earring studs made of gold, silver and platinum. Some cross studs may also feature some embellishments, including small diamonds and pearls.

Dangling: If you are looking for a more dramatic piece of religious jewelry, consider dangling cross earrings. Dangling earrings make a statement and catch the light with every movement. Choose from petite drop cross earrings and large chandelier cross earrings for your collection. Many pairs of dangling cross earrings may also feature intricate engraving or symbols.

Sparkly: Every girl needs a bit of sparkle, and diamond religious jewelry is also appropriate for men. Cross earrings with diamonds and gemstones bring a touch of luxury to any wardrobe. Sparkly cross earrings may be covered in diamonds, or they may incorporate just one lovely stone in the center of the cross. Consider cross earrings featuring your birthstone.

Charm: Charm jewelry is especially flirty and fun. Charm earrings consist of a hoop or dangling chain with several hanging charm pendants. Charm earrings give you the chance to personalize your own jewelry, which is a great way to display your faith. Try pairing cross charms with heart charms, nature charms, diamond-studded charms and other religious charms on one earring.

Men's: Earrings for men have been increasing in popularity for decades, and cross earrings are perfect for religious, fashionable men. Stud earrings are great choices for men; studs can easily be worn in a variety of situations. Consider men's cross earrings made of masculine metals, such as titanium and tungsten.

Buy Earrings
Back to Guides Directory