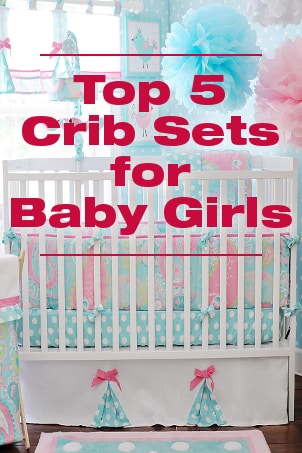 SHOP CRIB SETS NOW >>
The crib set you choose for your baby can highlight the theme of a nursery or even dictate it. Crib sets will typically include everything you need for the crib: sheets, pillows, quilt, bumper pad, and bedskirt. Depending on the bedding set you choose, it may also include a diaper stacker, window valance, or other nursery decorations. It's fun to pick out a theme for your nursery and just as much fun to find the best crib set for your baby. Here are the most popular ideas for baby girls.
Best Baby Girl Crib Sets:

Floral: If there is ever a time to make your little girl's room pretty, it's when she's a baby. Floral print baby bedding will give her crib a sophisticated yet girly look, and the design will work well for her toddler years as well when you move her to a bigger bed. Many crib sets will mix floral prints with coordinating solids or prints, like plaid or stripes.

Dots and stripes: You hear a lot about sugar and spice, but polka dots and stripes are also nice. These classic designs are easy to mix and match, and they certainly bring out your baby's girly side when chosen in shades of pink and purple. For a bold look, choose bedding with large polka dots or stripes in bright colors, or keep it contemporary with grey and yellow baby girl bedding.

Fairytale: Every little girl wants to be a princess, so give your little one the royal treatment with some fairytale-theme bedding. A cute crib set featuring princesses, castles, and fairies will look extra cute and is an easy way to give the whole room a magical theme. Pick decorations and accessories to match and make her nursery a palace.

Patchwork: For a bit of classic country charm, choose a patchwork design for your little girl's bedding. This quilted look also makes a great heirloom to pass down to your children and grandchildren. Patchwork crib bedding mixes hues and patterns to create a colorful, lively look in the nursery.

Black and white: Because babies don't develop the ability to see colors clearly for several months, they tend to be drawn to patterns with high contrast, like black and white. Whether you're going for a classic damask or a modern zebra print, choosing bedding featuring a bold black and white design will help stimulate your baby's eyesight, and it can look really cute as well. Get a little color in there by choosing a black and white crib set with a pink or purple trim.

Shop Crib Sets
Shop Baby Bed Sheets
Shop All Baby Bedding
See All Guides
Read More Baby Guides
Learn More about Baby Bedding
Published October 19, 2011
Updated November 11, 2014