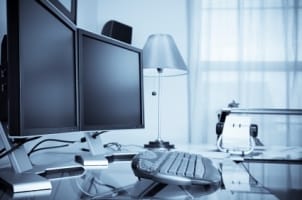 An efficient office, whether at home or in a corporate setting, requires time-saving computer software tools. Depending on what type of work you do, you'll find thousands of discount computer software programs for your specialty. There is some basic software that is essential to just about every office. Here are the top five computer software programs to include in your digital toolset.
Essential Office Software:

File management and backup: Chances are that your office includes more than a single computer and that you'll need to share files between those computers and mobile devices, like your smart phone. Networking and backup computer software applications allow you to sync files across multiple devices and set up automatic backups of all your important data. Look for computer software that will allow you to work with various networked computers and devices to help make managing shared files easier.

Presentation software: Modern multimedia presentations are part of effective communication, providing an orderly, engaging way to share information. Multimedia computer software for presentations has moved beyond simple slideshows, though. Now you can incorporate sound, animations and video into your presentations to really catch the attention of clients, colleagues and audiences.

Spreadsheets: Spreadsheets remain an essential tool in any business environment; they're simply a very powerful computer software tool for organizing and analyzing data, from finances to web traffic. Full-featured computer software programs will enable you to use your spreadsheets to create charts, analyze trends and even feed data to other software applications.

Publishing software: Whether you're creating print advertisements or publishing to the Web, sophisticated computer software for publishing will make it easy to design published materials with style. Publishing software can also act as simple word processors for office use.

Email and scheduling programs: Success comes from managing your time and communications wisely. Every office will benefit from computer software designed to make tracking and scheduling tasks simpler. Also, an effective e-mail program can make it simpler to manage and track correspondence with clients and partners.

Buy Software
Back to Guides Directory