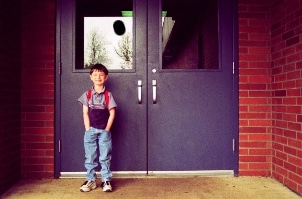 Back to school usually means new school clothes, and children's school shoes are a big part of any back-to-school outfit. Kids grow out of shoes fast, and they need different styles as the seasons change, so you should buy shoes for the entire year. The following tips can help you find the best children's school shoes for all year-round.
Children's Shoes for School:

Sneakers: Sneakers and athletic shoes will withstand the wear and tear of recess, when kids love to run on the playground. A good pair of sneakers can even last through the entire school year. In addition, buying your kid sneakers makes it easy to take your child straight from school to soccer practice.

Sandals: For the warmer months, send your child to school in a comfortable pair of sandals. Simple and airy, sandals will help keep your little one cool at recess on hot days. Classic leather sandals will easily pair with all your children's school clothes as well, even if they wear uniforms.

Casual loafers: There's nothing classier for school than a pair of casual loafers for both boys and girls. Durable and not too heavy, they'll be just right for mild fall days. If your children wear uniforms, a nice pair of loafers is an effortless complement to polo shirts and plaid skirts.

Boots: During cold winter months, keeping little feet warm and dry is essential. A pair of stylish leather boots can be worn all day. On snowy mornings, you may want to send your child to school in galoshes or snow boots with a change of shoes tucked neatly in a backpack. He can pull the galoshes off for class time and then put them back on for recess and the walk home.

Skate shoes: Skate shoes are comfortable, durable and stylish. They can be worn every day without wearing out on the playground, and kids love them. The best pair of children's school shoes is always going to be versatile, and skate shoes can be worn to school as well as to after-school skate sessions in the park.

Buy Girl's Shoes
Buy Boy's Shoes
Back to Guides Directory